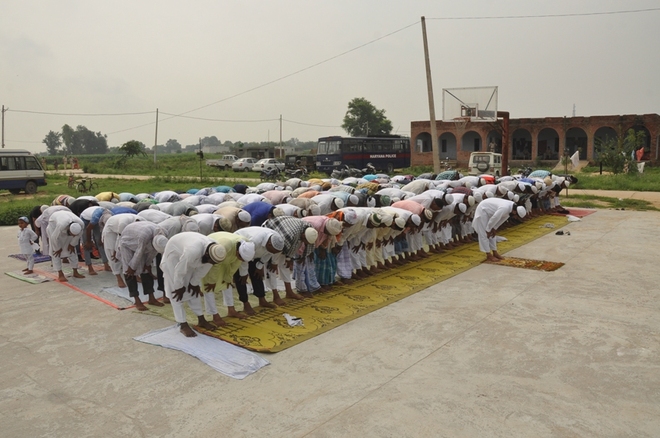 Bijendra Ahlawat
Tribune News Service
Faridabad, July 18
Communal tension appeared to have eased in the district's Atali village today with the temporary return of Muslim families to celebrate Eid amid stepped-up vigil by the police.
More than 100 Muslim families had moved out of Atali on July 1 after Jats allegedly torched houses and shops of the minority community following a dispute over the construction of a mosque.
Social activist Swami Agnivesh visited the village and interacted with members of both Muslim and Jat communities. "I have come here to celebrate Eid and bridge the gap between the two communities," he said, adding members of the Jat community extended greetings and were willing to resolve the problem.
"The police were deployed at the school and mosque. The return of some of the families for the first time to the village is a positive development," said Prahlad, a local resident.
Ishaq Numberdar, a leader of Muslims, said: "Families have returned to Atali to celebrate Eid only. Several of them will go back to their relatives' places after the festival. The affected families' permanent return to their homes is subject to lasting solution to the dispute."
Police Commissioner Subhash Yadav said members of both communities, in a representation, had expressed their desire to broker peace. "A meeting will be held soon," he said.
Communal violence erupted in Atali on May 25 and July 1 over the ownership of a plot used for mosque. The Jats claimed the village panchayat owned the land, while the minority community contested it by saying it was a property of the Haryana Wakf Board.
Meanwhile, the situation in Palwal's Tikri Brahman village, where communal violence was triggered, remained peaceful today, said Deputy Commissioner Ashok Meena.
Top News
Says 2004-2014 was a lost decade but 2030 will be India's de...
UPI soon for all in-bound travellers, coin-vending machines:...
He said the prime minister did not answer the questions he h...
All promotional cases to be kept outside the purview of the ...
Three-member collegium also recommends appointment CJs of hi...