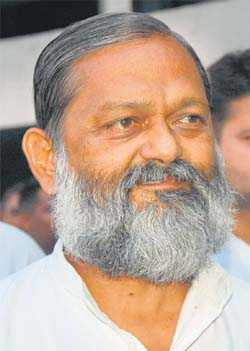 Geetanjali Gayatri
Tribune News Service
Chandigarh, September 10
In view of the Haryana Civil Medical Services Association (HCMSA) decision to go on strike, the state government, today, invoked the Haryana Essential Services Maintenance Act, 1974, prohibiting any strike in the Health Department for a period of six months beginning today.
A notification to this effect, issued by Chief Secretary DS Dhesi, states that, "In exercise of powers conferred by sub-section (1) of Section 4-A of the Haryana Essential Services Maintenance Act, 1974 (Act 40 of 1974), the Governor of Haryana hereby prohibits any strike in the aforesaid department for a period of six months from the date of publication of this order in the official gazette."
The HCMSA had announc-ed a two-hour pen-down strike on September 11, shutdown of OPD services on September 13 and complete shutdown of health services, including emergency and postmortem, from September 14.
The doctors are aggrieved over the state government's failure to issue a notification to enable the doctors in rural areas to avail themselves of its benefit under the quota in admission to PG courses last year. With entrance test for next year's admissions due in a couple of months, the government has not learnt from last year's mistake and is yet to issue the notification, the association maintained while adding that demands like special package for specialists, allowances at par with Central government doctors were also pending.
Meanwhile, Principal Secretary (Health) Amit Jha, it is learnt, has invited the doctors for talks on September 12.
Dr Rajesh Sheokand, General Secretary, HCMSA, said that the plan of a pen-down strike by the doctors stands as of now. "We have been called on September 12 for talks by the Principal Secretary, Health, after which we will decide the future course of action," he said.
Doctors' demands not justified: Vij
Ambala: Health Minister Anil Vij on Sunday said the demands of the doctors were not justified. Speaking to mediapersons, Vij said, "The doctors will not be allowed to observe any strike and their demands are not justified. They will not be allowed to paralyse essential services."