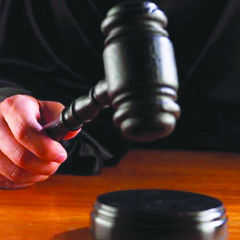 Saurabh Malik
Tribune News Service
Chandigarh, September 10
The Punjab and Haryana High Court has turned down the anticipatory bail plea of an 80-year-old man reportedly involved in a case registered on the allegations of cheating more than 300 defence personnel and "swindling their hard-earned money running into more than Rs 39 crore". The money was allegedly taken for investment purposes.
The Bench asserted that the petitioner's age was a relevant factor for consideration of his prayer for pre-arrest bail, but facts of the case revealed that he, along with his son, who was a co-accused, had committed criminal breach of trust, cheated more than 300 defence personnel and swindled their hard-earned money.
The order by Justice Mahabir Singh Sindhu came on a petition filed by Ram Saroop Aggarwal against Haryana and other respondents. An FIR was registered on October 26, 2015, for criminal breach of trust and cheating under sections 406 and 420 of the IPC at the Ambala Cantonment police station.
The sole contention raised on the petitioner's behalf was that he was 80 years of age and his health condition was deteriorating day-by-day. The Bench was told that the petitioner had no concern with the business of his son, co-accused Ashok Aggarwal. The state counsel, on the other hand, submitted that the petitioner was not cooperating with the investigating officer despite numerous opportunities.
Justice Sindhu asserted that the modus operandi was that the petitioner, along with Ashok Aggarwal and Manoj Aggarwal, used to make entries of the amount received from the victims, affix stamp of a firm and put signatures on a pocket diary as token of receipt of money.
The Bench asserted that during investigation, it was found that the petitioner had actively participated in the commission of offence, along with other co-accused, and an amount of more than Rs 39 crore had been transferred into 28 bank accounts of their family.
"Keeping in view the facts that the present scam is running into more than Rs 39 crore, more than Rs 80 lakh has been transferred into the account of the petitioner and despite sufficient opportunities he is not cooperating with investigation into the case, his custodial interrogation is required to unearth the same. Hence, this court is left with no option except to dismiss the present petition," Justice Sindhu asserted.
ACTIVELY PARTICIPATED IN CRIME
The petitioner, along with son Ashok Aggarwal and co-accused Manoj Aggarwal, used to make entries of the amount received from the victims, affix stamp of a firm and put signatures on a pocket diary as token of receipt of money
The HC Bench asserted that during investigation, it was found that the petitioner had actively participated in the commission of offence, along with other co-accused, and an amount of more than Rs 39 crore had been transferred into 28 bank accounts of their family