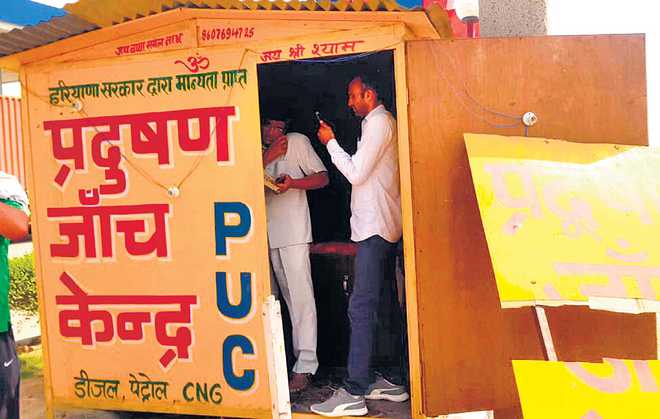 Ravinder Saini
Tribune News Service
Rewari, June 25
Several illegal pollution checking centres have mushroomed on the Delhi-Jaipur highway in the district.
The centres neither have the licence to operate nor have the machine to check pollution level of vehicles. In spite of this, the centres are issuing "pollution under control certificates" by charging Rs 50 from vehicle owners.
This came to light after the police on Sunday raided six such centres on the NH-8.
"Only 56 centres are authorised to issue the certificates in Rewari district, but the number of centres is much higher. Centres continue to function even after the expiry of their licences," the sources said, adding the Road Transport Authority (RTA) issues the licence to private agencies for a year.
A recent report of the RTA brought out that illegal pollution centres were operating in kiosks at petrol pumps and functioned especially during the night.
"On Sunday, we got a tip-off that pollution checking centres are operational without licences. Decoy customers were sent to the centres to find out the veracity of the claim. Men at the centres issued them certificates without checking the registration certificates after charging Rs 50," said Superintendent of Police Rajesh Duggal.
The men at the centres were also collecting road tax from vehicle owners. A board in this respect was put outside the kiosks.
"Besides laptops and printers, several blank certificates were seized from the centres, while five men were arrested," the SP said.
"The investigation is in progress. Maybe, influential persons are involved in this illegal trade. As kiosks were located at petrol pumps, pump owners will also be grilled," Duggal added.
Pardeep Dahiya, Additional Deputy Commissioner and RTA Secretary, said a special campaign would be launched in the district soon to check more pollution checking centres.
Top News
Says strength of democratic institutions to figure in discus...
BKU protests as sunflower not procured on MSP
Kuki insurgents target soldiers' camp in school
NCB unearths pan-India trafficking | 6 held, all in their 20...