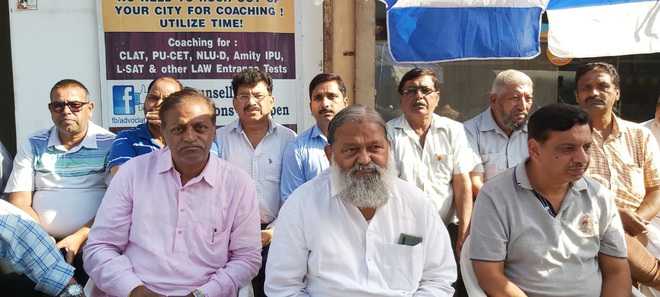 Nitish Sharma
Tribune News Service
Ambala, October 22
A day after the polling, candidates spent their time relaxing, discussing polling trend and future course of action with supporters on Tuesday.
BJP Ambala Cantonment candidate Anil Vij spent his morning having tea with supporters. Though the result is to be announced on Thursday, the BJP leader seemed confident of a win.
Vij said, "I enjoy the election every time and never get tired. My team has already apprised me with the polling trend and the required feedback last night. We sit here at this tea point every day, even during election, and discuss the current affairs. Now we will be just doing our routine work and wait for the Thursday."
Former Congress leader Chitra Sarwara, who contested as an Independent candidate, spent her day with her supporters and taking feedback.
She said, "I have been spending my time with the supporters. Now we are planning for the counting day. A lower voter turnout has been witnessed this time. There are different views, sometime people think that if the polling is on the lower side then it is favourable for the incumbent government but on the other side it also shows lack of interest among the voters. Lack of voting in the urban areas suggests that the people are not happy with the BJP."
Congress candidate Venu Aggarwal said, "I have expressed my gratitude towards the party workers and supporters for the hard work they have done during the election campaign. The supporters have given a positive response and we are motivating them for the coming days."
Congress leader and Thanesar candidate, Ashok Arora, said, "I have been taking feedback and relaxing. Resentment due to poor policies of BJ, is the prime reason behind low turnout."
Top Stories