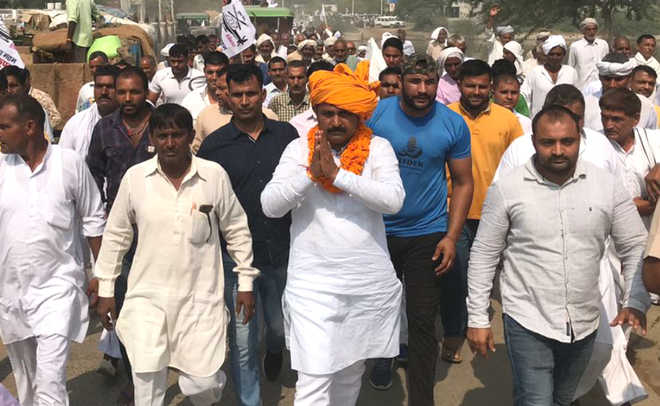 Sushil Manav & Ravinder Saini
Tribune News Service
Meham (Rohtak), October 17
A BJP rebel contesting as Independent is giving the jitters to sitting Congress MLA Anand Singh Dangi and BJP candidate Shamsher Singh Kharkhara in the Meham Assembly segment of Rohtak district in Haryana.
The Independent Balraj Kundu, who was chairman of Zila Parishad, Rohtak, had resigned from the post for the BJP ticket, which eventually went to Kharkhara, who had contested the last two elections against Dangi.
"Kundu is known more as a philanthropist in the area. He runs 12 buses which ferry girl students from various villages of the constituency to colleges and universities in Rohtak every day for free. He helps poor people for the marriage of their daughters and is always ready with donations for gaushalas and other charity works," says Mahabir, a youth in Bahu Akbarpur village.
Another youth corrects him, saying the number of free buses for girl students run by Kundu is 13 not 12.
At Mokhra, the biggest village of the district with a population of over 20,000, over 30 tractors are lined up to welcome Kundu, who is scheduled to come to the village.
"He enjoys the support of people of all communities cutting across caste lines," says Satbir Singh Malik.
"Legislator Dangi has become arrogant over the years. Kundu, on the other hand, respects all who come to him for any work," Malik adds.
Mokhra is also the native village of JJP nominee Hargyan Singh, but villagers say that he doesn't enjoy much support.
Dangi's supporters, however, downplay Kundu's challenge and claim that the BJP rebel's influence is limited only to the "aathgama" (a cluster of eight villages) and he doesn't enjoy any support in the "chaubisee" (the 24 villages famous for deciding the fate of Meham seat historically).
"Our leader will win this election again and this time by an even bigger margin," his supporters claim.
Today, former CM Bhupinder Singh Hooda addressed a public meeting for Dangi in Meham and told voters that with their support, the Congress would form the next government.
Dangi (67), a four-time MLA, had filed his nomination papers even before the Congress tickets were decided and had said he did not have to wait for the ticket since he had the powers of getting tickets for others too.
When Hooda was annoyed with the Congress and there were rumours of him floating a separate party, Dangi had said he would remain in the Congress come what may.
On the other hand, BJP candidate Shamsher Kharkhara is also confident of his victory and he maintains Kundu is actually causing damage to Congress candidate Dangi.
"Seven out of ten of his supporters were Dangi's supporters earlier. Kundu's influence is limited to a few villages while I had almost defeated Dangi in 2014 when he eventually won by a narrow margin of 6,800 votes," the BJP candidate says.
"Nindana village of this constituency is the birthplace of Chief Minister Manohar Lal Khattar. During the last five years of the BJP regime, Rs 600 crore have been spent in this constituency. During 10 years of the Congress regime, merely Rs 207 crore were spent," Kharkhara says.
He claims that a large number of villagers from Meham constituency have got jobs in the past five years due to the transparent recruitment policy of the Khattar government.
Hitting out at the Congress for its stand on the abrogation of Article 370, Kharkhara says people will never vote for those who have brought their tickets from Ghulam Nabi Azad.
The Meham Assembly segment know for its historical 'Chaubisee Chabootra', a platform where villagers from 24 villages of the constituency used to take a collective decision on which candidate to support, used to be former Deputy PM Devi Lal's bastion till 1987.
However, a mayhem in Meham during a bypoll contested by CM Om Prakash Chautala and Anand Singh Dangi drifted voters of this constituency away from the Chautala family.
This time, the INLD has not even been able to field a candidate from Meham while Hargyan Singh fielded by the JJP is unlikely to make any impact on the final outcome of the election.
________________________________________________
Contest only between Cong, BJP: Hooda
Rohtak: Stating that the main contest in the elections was between the BJP and the Congress, former CM Bhupinder Singh Hooda advised the electors not to waste their votes on the other parties. Addressing a rally at Meham on Thursday, he told his supporters to beware of "vote-cutters", apparently referring to BJP rebel Balraj Singh Kundu. tns
Segment known for Chaubisi Chabutra
Meham is known for its 'Chaubisi Chabutra', a platform where 24 villages of the constituency took a decision on which candidate to support. Now, the practice is losing ground.