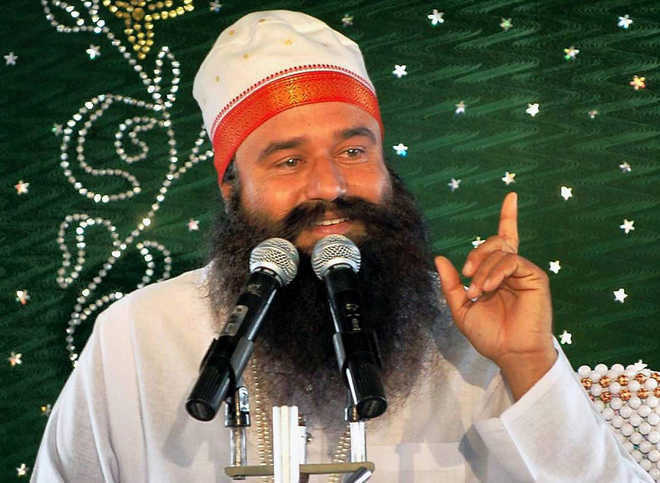 Tribune News Service
Rohtak, August 28
Sirsa Dera chief Gurmeet Ram Rahim Singh was on Monday sentenced to 20 years in jail — 10 years each for two rapes that will run consecutively, and not concurrently as was understood initially. Special CBI judge Jagdeep Singh announced the sentence in the special court created at the Sunaria Jail here.
The dera chief has also been slapped a fine of Rs 30 lakh. Defence lawyer S K Garg Narwana said the court fined the dera chief Rs 15 lakh in each rape case.
Of the Rs 30 lakh, Rs 14 lakh each would go to the two victims who were part of his sect and were coerced into having sex with him.
(Follow The Tribune on Facebook; and Twitter @thetribunechd)
Both sentences in dera chief rape cases will run consecutively for a total of 20 years jail, a CBI spokesperson confirmed.
The defence counsel said he will appeal against the orders in the high court.
Earlier, the defence and prosecution were given 10 minutes each to put forward their arguments on the quantum of sentence. The CBI sought the maximum sentence calling it the rarest of the rare case, whereas the defence sought a reduced sentence on health grounds.
Just before the judge announced the sentence, Ram Rahim was in tears and pleaded mercy.
The judge was brought to Rohtak by a helicopter from Chandigarh and landed at a helipad near the jail located on the outskirts of Rohtak.
The special CBI court on Friday had convicted the Dera head of rape at the Panchkula district court. He was convicted under Sections 376 and 506 of the IPC and later flown to Sunaria Jail here.
His conviction had led to large-scale violence in Panchkula and Sirsa besides at other places in the region, which left 38 people dead and around 260 injured.
---
READ
---
The allegations against Ram Rahim were that he had sexually abused and exploited two 'sadhvis' residing in a hostel located on the premises of Dera Sacha Sauda at Sirsa.
The Punjab and Haryana High Court on September 24, 2002, had asked the CBI to investigate the case against the Dera chief on charges of raping two 'sadhvis', or female followers, on the campus of the sect on the outskirts of Sirsa in 2002 after anonymous letters addressed to then prime minister Atal Bihari Vajpayee and the then chief Justice of Punjab and Haryana High Court levelled the allegations.
The CBI submitted a chargesheet on July 30, 2007. The court framed charges against Singh under Sections 376 (rape) and 506 (criminal intimidation) of the IPC on September 6, 2008.
After the examination of prosecution witnesses and evidence, the Dera head's statement was recorded under Section 313 of the CrPC in 2014.
Ram Rahim had told the court, "I am innocent. I had never raped anyone. Since 1990, I am not medically or physically fit to have sex with anyone. I am not potent." Thereafter, the case was posted for defence witness.
In a reaction to the decision, Dera Sacha Sauda's spokesperson Dilawar Insan said: "Injustice has been done to us. We will appeal against the verdict. History is replete with instances where social reformers have been crucified like this. Dera stands for welfare of humanity".

Timeline
2002: Anonymous letters addressed to then PM and the then Chief Justice of Punjab and Haryana High Court, allege sexual exploitation of women followers at Dera Sacha Sauda in Sirsa
September 24, 2002: The Punjab and Haryana High Court hands over the case to CBI
July 30, 2007: CBI files chargesheet against the dera head
September 6, 2008: Special CBI court frames charges against Gurmeet Ram Rahim Singh under Sections 376 (rape) and 506 (criminal intimidation) of the IPC
April 5, 2011: Special CBI court shifted from Ambala to Panchkula; the case also transferred to the Panchkula CBI court
August 17, 2017: Special CBI Judge Jagdeep Singh reserves verdict for August 25
August 25: Dera head held guilty of rape