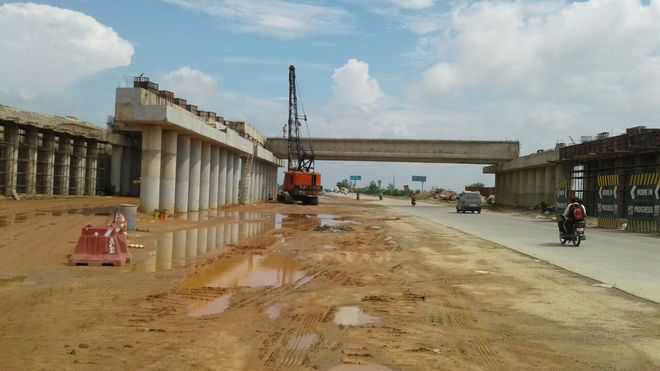 Tribune News Service
Faridabad, July 24
The KGP (Kundli- Ghaziabad- Palwal) expressway is not likely to be completed by August 15 as announced by Union Minister for Transport Nitin Gadkari on April 28 .
"With 70 per cent of the work completed, the project is likely to be completed in March next year, three months earlier than the deadline of July, 2018, set by the Supreme Court," said Kishore Kanyal, project director of the stretch here.
It may be recalled that Union Transport Minister Nitin Gadkari, who conducted an aerial survey of the project in Faridabad and Palwal on April 28, had announced that it was most likely to be ready by August 15. A similar claim was also made by then NHAI chief Raghav Chandra on July 13, 2016, to make it operational by August, about 11 months ahead of the July, 2018, deadline.
The foundation stone for the Rs 5,763-crore project was laid by Prime Minister Narendra Modi in November 2015. This is one of the two expressways proposed by the Centre to decongest Delhi by providing a bypass to vehicles not destined for Delhi.