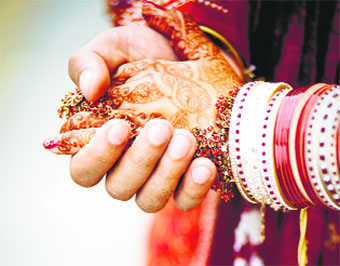 Ravinder Saini
Tribune News Service
Jhajjar, October 22
Representatives of the Dulhera khap, which wields influence in 12 villages of the district, on Sunday resolved not to solemnise weddings at night. This has been done so to prevent commotion as well as drunken driving which leads to road mishaps.
At a meeting, they took a pledge to keep the number of "barartis" fewer and not to give or take dowry.
The khap that represents Dulhera, Khedka, Gola, Asthal, Gubhana, Majri, Gangadwa, Jalgadhpur, Chhudani, Badhani, Badhana and Kablana villages also imposed a ban on celebratory firing and playing of DJ music in weddings.
A committee in all 12 villages has been formed to ensure the execution of the khap's decisions. Village sarpanchs will lead the committees.
Umed Singh Deswal, president of the Dulhera khap, said: "At night weddings, 'baratis' consume liquor and then quarrel with others. They drive back home in an inebriated state, raising the possibility of road accidents. So, the khap has decided to organise weddings during the day as 'baratis' generally hesitate to consume liquor at that time."
He further said fewer "baratis" would lessen the financial burden on the bride's family. "Only family members and relatives will be allowed to be part of the 'barat'. Most of the villagers agreed to limit the numbers of 'baratis'."
"The khap's decision against celebratory firing will turn out to be instrumental," Deswal added.