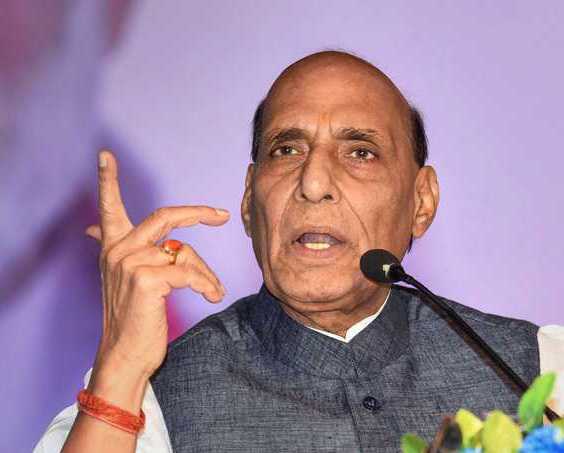 Sumedha Sharma
Tribune News Service
Pataudi, October 13
Issuing a "polite" warning of encore of the 1971 fragmentation of Pakistan, Defence Minister Rajnath Singh on Sunday asked the neighbouring country to mend its ways and act in time against terrorism.
Singh who was in Pataudi seeking support for BJP candidate for the Haryana Assembly elections, Satya Prakash Jaravta attacked Pakistan for raising its pitch on Kashmir and defending terrorism on international fora.
"With sternness but utter politeness I suggest that Pakistan should change its mindset and get its act together. Or else Pakistan that was divided into two parts earlier will end up into many fragments. Kashmir is ours, so stop jabbering about it," Singh said amid a round of applause.
Calling Rafale as biggest strength of India, Singh asked Pakistan to "change your stance on terrorism and accept brotherhood. Remember, now we will not have to carry out a surgical strike. We will sit in our land and bust your terror factories".
Calling Manohar Lal Khattar a saint in the politics of a state known for hooliganism and rowdism, Singh said just like PM Narendra Modi people could debate or question Khattar's policies but not his intent. Singh called zero-tolerance towards corruption as Khattar's biggest strength.
The rally, meanwhile, has apparently given a major boost to BJP candidate Satya Prakash Jaravta who has been struggling due to internal resistance as Singh went on to call him "Khattar's shadow".
"I have met him first time but truly bowled over by his polite and submissive demeanour. One look at the man and I know he will serve you as public servant and not a ruler. Trust him and go for him," Singh said.