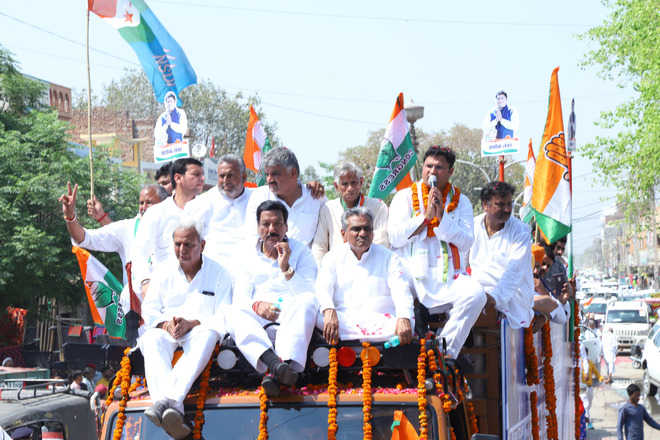 Deepender Deswal
Tribune News Service
Hisar, April 20
State Congress president Ashok Tanwar on Saturday filed his nomination papers from the Sirsa (reserved) parliamentary constituency.
Addressing a public meeting on the occasion, Tanwar said he would ensure development of Sirsa as an industrial hub on the lines of Gurugram and Faridabad.
Tanwar was accompanied by his wife Avantika Tanwar and Congress leaders, including Ranjit Singh, Paramvir Singh and Ishwar Singh.
Addressing the supporters at a public meeting, he said time had come to take revenge from the BJP for its five years of misdeed.
Alleging the state BJP government had stopped all development projects that were initiated when he was the MP from the constituency five years ago, Tanwar said he would restart all pending works.
The Congress leader, who lost the previous Lok Sabha contest to Charanjit Singh Rori of the INLD, said while Chief Minister Manohar Lal Khattar was making tall claims of corruption-free governance, mining mafia in south Haryana was thriving and looting the resources of the state. He alleged corruption had gone many notches high during the BJP government.
Tanwar said the Sirsa segment used to be the stronghold of the INLD. "But now, the party has been completely wiped out. The result of this election would spell doom for the INLD," he said, maintaining people had made up their minds to get the Congress back to power at the Centre.
Promises industrial development
State Congress chief Ashok Tanwar said he would ensure development of Sirsa as an industrial hub on the lines of Gurugram and Faridabad
He said time had come to take revenge from the BJP for its five years of misdeed