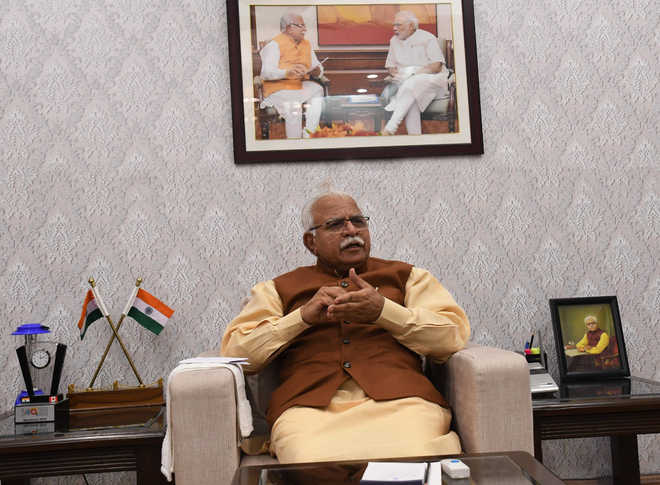 Ambala, April 20
Chief Minister Manohar Lal Khattar promised to revamp the Ambala grain market and resolve all issues of farmers and arhtiyas (commission agents) after the Lok Sabha elections.
Khattar gave the assurance when local farmers and traders apprised him of the poor condition of the mandi and several posts in the market committee lying vacant. He was here to address a rally in Ambala City on Friday.
Leading a delegation, market committee vice-chairman Bharat Bhushan Aggarwal apprised the Chief Minister of the long-standing problems and demands of local farmers and traders. "The CM gave us a patient hearing and promised to fulfil all genuine demands after the model code of conduct gets over," Aggarwal told The Tribune here on Saturday.
According to him, the posts of secretary, assistant secretary, accountant, mandi supervisor and gatekeeper are either vacant or those posted mostly remained absent from duty.
"We had also taken up the matter with the marketing board chief administrator but to no avail," he said. The delegation also informed the CM about the slow pace of lifting of procured wheat from the grain market. Khattar directed the officials concerned to ensure speedy and smooth procurement of foodgrains else strict action would be taken against them. Meanwhile, a visit to the grain market revealed that internal roads, sheds, loading and unloading platforms, sanitation, drainage system, street lights and weighing bridges were in a dilapidated condition. — TNS