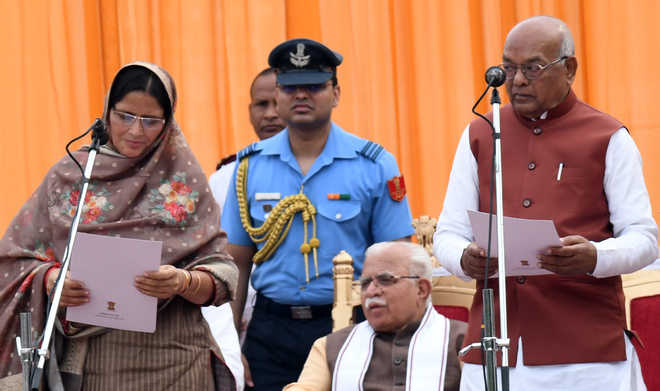 Pradeep Sharma
Tribune News Service
Chandigarh,November 14
The much-awaited first Cabinet expansion by Chief Minister Manohar Lal Khattar today failed to strike the caste and regional balance.
While the influential Jat community would be calling the shots with four ministers in the 12-member Council of Ministers, the Aggarwal community has failed to find any representation in the Cabinet though one of its members — Gian Chand Gupta — was recently elevated as the Assembly Speaker. In Khattar's last Cabinet, there were just two Jat ministers — Capt Abhimanyu and OP Dhankar.
Ironically, two Lok Sabha constituencies, which comprise 18 Assembly segments, in the Jatland — Sonepat and Rohtak — where the BJP's performance has been dismal in the recently held Assembly elections, have also failed to find any representation in the new Cabinet. After the 2014 Assembly poll, Sonepat and Rohtak had two ministers in Kavita Jain and Manish Grover, respectively. However, all other Lok Sabha segments have been given representation in the Cabinet by the BJP-JJP Government.
A surprise omission from the Cabinet is the Aggarwal community which had at least three ministerial aspirtants — Kamal Gupta, Ghanshyam Saraf, Deepak Mangla. While Saraf is a three-time MLA, Gupta is a two-time legislator and Mangla is considered close to Khattar. In the last Cabinet, Kavita Jain represented the community for full five-year term, while Saraf was minister for a brief stint.
Sources said as part of its "social engineering" formula, the BJP-JJP alliance had tried to give representation to all regions and castes in the wake of the hung Assembly. With that end in mind, there are two OBCs — Kanwar Pal Gujjar and OP Yadav — and one Brahmin, Mool Chand Sharma.
"The coalition government has its own set of problems. Even though we did not get a clear mandate, we have tried to balance the caste, region and gender factors keeping in mind the concept of 'Haryana ek, Haryanvi ek'," a senior BJP functionary claimed.
---
Caste matters
Jats: Dushant Chautala (JJP),JP Dalal, Kamlesh Dhanda(BJP), Ranjit Chautala (Independent).
Punjabis: Manohar Lal Khattar, Anil Vij.
OBCs: Kanwar Pal Gujjar, OP Yadav.
Dalits: Banwari Lal(BJP), Anoop Dhanak(JJP).
Brahmins: Mool Chand Sharma
Sikhs: Sandeep Singh
Representation to all sections
All sections of society have found representation in the new Council of Ministers, which was the result of the consensus between the BJP and the JJP and the approval of the party high command. The two vacant ministerial slots leave room for the accommodation of more regions and caste.—Manohar Lal Khattar, CM