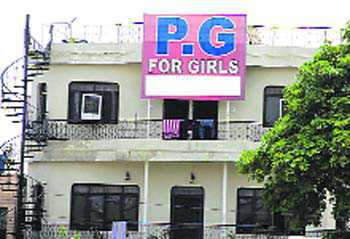 Sumedha Sharma
Tribune news Service
Gurugram, December 10
With the city's infrastructure reeling under 5,000 illegal paying guest (PG) accommodations or hostels, the Gurugram Municipal Corporation is out to curtail the menace.
In a crackdown on illegal premises, the MC has identified around 3,000 accommodations and served notice on 1,700, asking these to either get regularised/registered or face closure. The owners have been asked to pay lodging fee of Rs 1,000 per inmate as stipulated under the Municipal Corporation Act.
Interestingly, a mere 10 PG premises are registered while the rest are generating illegal income by bypassing the rules and evading mandatory taxes.
MC Commissioner Yashpal Yadav says: "PG accommodations and hostels are inevitable in a city like Gurugram, but these need to be registered. These premises — which on paper are residential properties — house as many as 50 inmates, taxing not just the civic infrastructure, but also causing law and order concerns."
During the IT boom over the past decade, PG accommodations have seen a growth of around 80 per cent, turning a majority of residential areas into PG hubs.
While the Town and Country Planning Department has put in place a policy listing requisites for running a PG accommodation, these are not being enforced properly.
A senior official says many obsolete clauses are being amended. "We are working on the enforcement aspect. Once we get approval, we will regularise the accommodations."
The MC, meanwhile, is giving a golden chance to PG owners to get registered.
"Many PGs are not registered because of the cumbersome process, so we have told the owners to apply for registration with documents such as PAN card. However, civic and police NOCs are mandatory. The property should not violate building bylaws," said Yadav.
'Pay up, get regularised'
We are conducting a survey and identifying illegal accommodation. They have been asked to pay for the resources being used and get registered under the norms or face closure. Yashpal Yadav, MC Commissioner