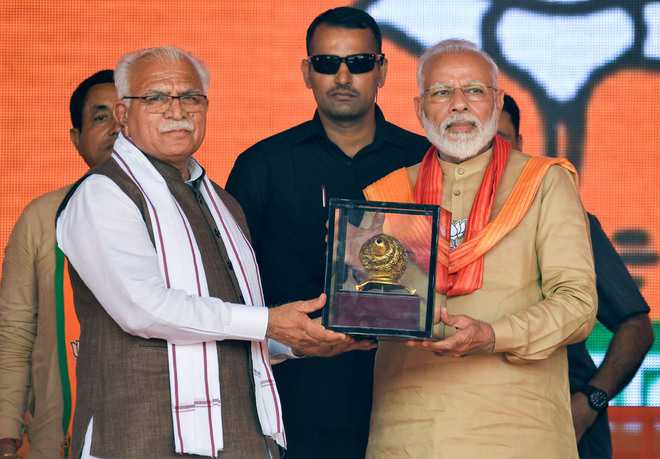 Deepender Deswal
Tribune News Service
Hisar, October 15
Prime Minister Narendra Modi today hit out at the Congress for criticising scrapping of Jammu and Kashmir's special status and accused the party of trying to spread baseless rumours, urging the people to punish it suitably in the ensuing Haryana Assembly elections.
Addressing a public rally in Dadri, from where the BJP has fielded wrestler Babita Phogat of the 'Dangal' fame, Modi claimed his government had freed J&K from the fetters that kept it bound because of Article 370.
"The entire country stands by the people of J&K and Ladakh but some Congress leaders are spreading rumours. Abuse Modi as much as you want, even import invectives from Bangkok, Thailand and Vietnam... I have no problem if you speak against Modi. But stop backstabbing India...," he said, daring the Congress to re-invoke the provision for special status on J&K. To strike a chord, the PM described Haryana as a land of fabulous farmers and fearless fighters and of course peerless sportspersons. "These three are interlinked as they serve the country. The entire nation is proud of them," he stated.
Promising to provide more water to fulfill the needs of farmers, Modi said Haryana and Rajasthan had the right over the water which flows into Pakistan. "For 70 years, the water which belongs to India and the farmers of Haryana has flowed into Pakistan and the previous governments failed to prevent this. I will end this and bring water to your houses," said the PM.
Talking about the defence personnel, he said he had fulfilled his 2013 promise of implementing the One Rank, One Pension (OROP) scheme. "About 19 lakh retired jawans, including two lakh personnel from Haryana, have received about Rs 900 crore under OROP. We have increased the scholarship for martyrs and also included the children of police personnel and those from the central reserved forces. Special allowances for serving jawans have also been increased," he said.
The PM said pension to farmers above the age of 60 years had been provided, and added Rs 650 core had been disbursed to beneficiaries.