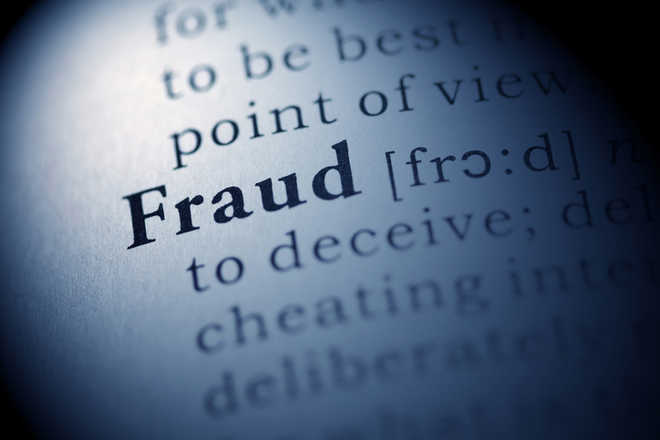 Mukesh Tandon
Tribune News Service
Panipat, July 14
The Excise and Taxation Department has identified 12 more non-existent firms that caused loss of crores of rupees to the state exchequer by bogus input tax refund claims in 2015-16, 2016-17 and 2017-18.
According to the details available, C-forms of over Rs800 crore had been issued to bogus firms' owners by then departmental officers.
On the direction of the Chief Minister, the department has lodged a criminal complaint against these bogus firms and the police have registered 12 FIRs against the registered owners of these non-existent firms.
The firms were registered under VAT Act on the basis of fake documents.
The scam came to light during the inquiry of Paras Enterprises, a non-existent firm registered in the name of Tarun Kumar. It was revealed during the course of the inquiry that 12 firms had committed fraud with the government by claiming wrong input tax credit (ITC) on the lines of Paras Enterprises.
The bogus firm owners had claimed wrong input tax credit but no tax was paid by the dealers on the interstate sale-purchase.
The 12 firms identified by the department are RK Traders (proprietor is Ram Kumar); Jayant Traders (proprietor is Deepanshu Kapoor); RK Enterprises (proprietor is Gopal); Wind Advertising Pvt Ltd (directors are Asha Jindal and Suruchi Jindal); Samrat Traders (proprietor is Rahul); Gurukripa Enterprises (proprietor is Ayush Gupta); Aggarwal Enterprises (proprietor is Pawan Kumar); Star Enterprises (proprietor is Vikram Kumar); Keshav Enterprises (proprietor is Pankaj Jain); Shakti Traders (proprietor is Sunita); and G Zone Infotech Pvt Ltd (directors are Asha Jindal and Suruchi Jindal).
ETOs under scanner
Form C was issued to firms to claim input tax credit (ITC) while doing business in other states by Excise and Taxation Officers (ETOs) under the VAT Act
In these cases, Form C was issued by the then ETOs.
The role of the ETOs is under the scanner reportedly for issuing Form C to these non-existent firms.