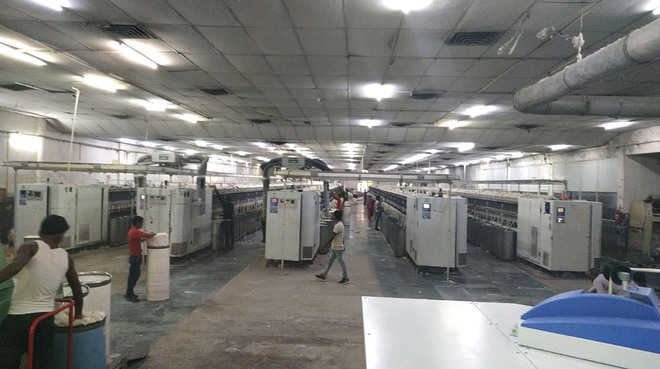 Mukesh Tandon
Tribune News Service
Panipat, September 19
Members of Northern India Roller Spinners' Association have decided to keep their spinning mills shut on Friday due to slowdown in demand of products in the domestic as well as the international market.
As per the members, there is around 40 per cent slowdown in the demand of yarn. As many as 60 spinning mills produce around 15-20 lakh kg yarn per day here.
The association said that production would reduce by 16-18 per cent by keeping the mills one day shut.
Pritam Singh Sachdeva, president, Northern India Roller Spinners' Association, said that Panipat is a hub for the recycling industry, resulting in the production of yarn out of discarded clothes.
The industry uses discarded clothes and after recycling it, the yarn so produced is sold in domestic and international markets. Over 200 tonnes of rag is recycled in Panipat daily, he added.
The market was facing a severe slowdown this time. There is a 40 per cent slowdown in demand even in the domestic market, Sachdeva maintained. "Also, the godowns are full of stock. That's why the members have decided to shut their units on Friday, a day in the week," he said.
This will be done for two weeks and then, the situation will be reassessed.
This is the first time that this industry is facing such a severe slowdown, he added. More than 50,000 people are dependent on these spinning mills and hundreds of small industries are also linked with these mills, he added.
More than 60 per cent of the total power is used only by these spinning mills and on closure day, electricity would be surplus, he claimed.
Lalit Goyal, president, Panipat Export Association, said that the slowdown was global.
Exports have been hit and the demand from Europe, US and other countries has decreased 30-40 per cent. It has also affected the overall textile business at Panipat too, he added.
Customs duty cut on rags sought
Sachdeva said that the Union Ministry of Commerce and Industries had increased Customs duty on textile chapters from 5 per cent to 20 per cent on July 16, 2018. The duty was mostly increased on finished/semi-finished products to promote Make in India, he said. But inadvertently, the duty on mutilated rags, which is a raw material for industries here, has also been increased from 5 per cent to 20 per cent. The association has appealed to the government to decrease Customs duty from 20 per cent to 5 per cent on rags.