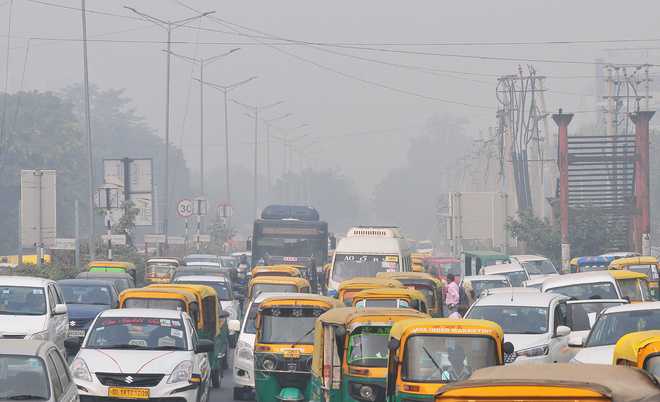 Mukesh Tandon
Tribune News Service
Panipat, November 14
Industries here have been shut for 19 days, but this seems to have little impact on the air quality. For the past three days, air quality index (AQI) of Panipat has been in the "severe" category.
The air quality index level was measured at 493 at 9 am on Thursday. The situation improved as the day progressed as the air quality index level was recorded at 374 at 5pm. The air quality index level was "very poor" for 25 consecutive days.
Considering the deteriorating air quality, Environment Pollution Control Authority (EPCA) chairman Bhure Lal on Wednesday evening extended the Graded Response Action Plan (GRAP) up to Friday and directed that industries and schools in NCR districts be shut.
Subsequently, Deputy Commissioner Sumedha Kataria directed private and government senior secondary schools in the district to remain closed for two days. But some schools were found open on Thursday.
It was important to mention here that the Environment Pollution Control Authority chairman had directed to shut all industries in the NCR due the extreme level of pollution and smog in New Delhi and NCR districts. Earlier, the Environment Pollution Control Authority banned the industrial operation till November 5. After four more extension, the ban has been extended till November 15.
Bheem Singh Rana, president of the Federation of All-industrial Associations and the Panipat Dyers' Association, said about 15 per cent of industries had started operations as they were using agricultural residue in their boilers.
Sandeep Kumar, regional officer, HSPCB, said we have conveyed to industrialists that they could use only agricultural residue. Strict action would be taken if anyone is found violating emission norms, he added.