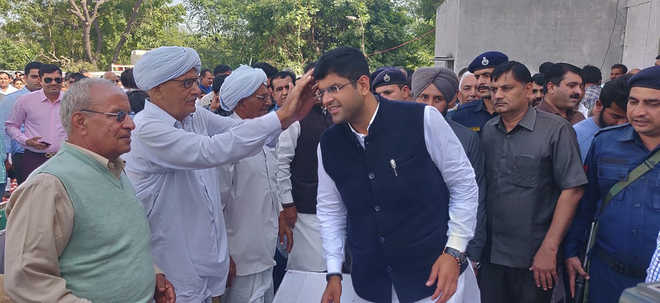 Our Correspondent
Sonepat, November 17
Deputy Chief Minister Dushyant Chautala on Sunday claimed that conducting the Haryana Teacher Eligibility Test (HTET) peacefully was the first success of the BJP-JJP coalition government in the state as attendance of candidates in examination centres was close to 100 per cent.
Interacting with mediapersons during his visit to Jat Joshi village in the district, he said all candidates appeared in the examination within their home districts and women candidates were not required to remove their chains before entering the examination hall.
"The BJP-JJP government is strong and the promises made to the public will be fulfilled," he said. He stated that all matters would be discussed in the first meeting of the new Cabinet tomorrow.
Targeting former Chief Minister Bhupinder Singh Hooda, Dushyant said it was easy to level allegations, but these should not be politically motivated. People of the state had given Hooda the role of opposition leader and he should play the role of a strong opposition leader, he remarked.
Accompanied by JJP leaders KC Bangar, Padam Singh Dahiya and Raj Kumar Ridhau, Dushyant also visited Bali Brahmanan and Rukhi villages in the district.