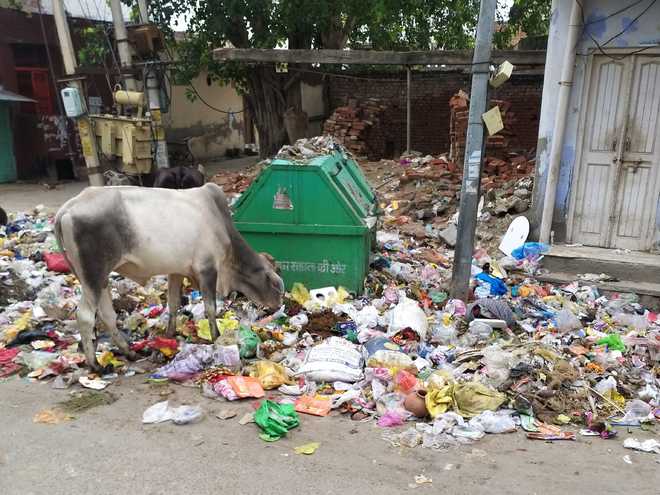 Bhiwani town, which is part of the Bhiwani Assembly constituency, is characterised by dilapidated roads and streets and heaps of garbage dumped at every nook and corner. It is the home town of former Chief Minister Bansi Lal, who is remembered for his preference for infrastructure development, but it seems now it has lost its appeal.
BJP's Ghanshyam Sharaf represents the constituency for the second time consecutively. The segment comprises all 31 wards of Bhiwani town, and 23 villages, besides five 'dhanis' adjoining the town. Residents of several localities have a number of unaddressed grievances. The civic amenities are in a shambles and the water supply infrastructure and the sewerage are crumbling.
The government has also failed to get the projects of a medical college and Chaudhary Bansi Lal University through in the past five years. The previous Congress government in the state had approved the medical college and the Central Government had released around Rs 200 crore for it. The university is functioning from the campus of the government college.
Ashok Bhardwaj, a social activist, says that the town is a picture of neglect in terms of civic infrastructure. "You go to any part of the town, roads are in a bad shape and full of potholes. People are agitated as they are getting polluted drinking water supply. Even posh colonies such as Sectors 13 to 23, MC Colony, Shiv Nagar and interior localities of the town have been crying for civic amenities such as clean water, functional sewerage and cleanliness," he says.
"Local MLA Ghanshyam Saraf had also served as the Public Health and Engineering Minister in the present government for one year before he was dropped. During the Congress regime too, Tosham MLA Kiran Choudhry held the same portfolio. But neither of the two had been able to improve the pathetic civic conditions in the town," he adds.
In Padao Mohalla, six youths took an initiative to clean garbage dumping points and pitched tents to start a dharna to discourage people from throwing waste. "We request everybody to throw garbage in dustbins placed by the Municipal Council, as people have a habit to dump waste on roadsides. We will continue with our dharna until we convince people to change their habit," he says.
However, despite all problems, the BJP seems to have an edge over rival parties in the absence of a strong candidate in the Opposition in the constituency, says Bhardwaj.
---
Total voters 211,697
1,12,918 Men
98,778 Women
1 Transgender
Incumbent MLA Ghanshyam Saraf
Probable candidates
Cong: Rampratap Sharma
BJP: Ghanshyam Saraf
---
Legislatorspeak
The state government carried out unprecedented development in the Assembly constituency. It approved around Rs 2,500 crore for development works in the segment. I am busy right now and will share the details of development works later. Ghanshyam Saraf, BJP MLA
---
Oppositionspeak
The BJP government has ignored the constituency. Insanitary conditions are visible in Bhiwani town. The government has failed to bring medical college and university, for which the previous Congress government had made budgetary provisions for them. Rampratap Sharma, Congress leader