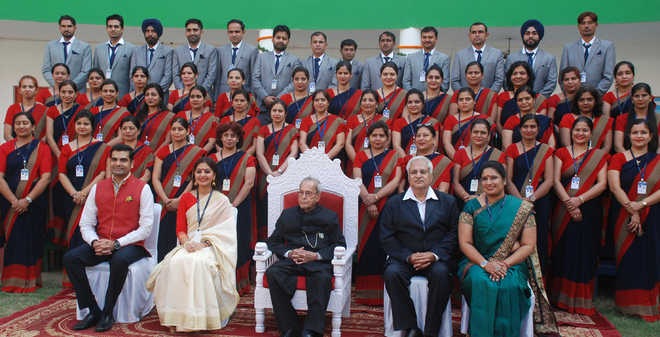 Parveen Arora
Tribune News Service
Karnal, November 8
Students of Baba Ram Das Vidyapeeth in Kulvehri village got a chance to interact with the former President of India Pranab Mukherjee during a "Meet and Greet Session" on Friday.
Students asked the former President about his experience as the President of India and a teacher and also questioned him about his favourite subjects. Mukherjee too replied to their questions enthusiastically and shared his vision about teachers, students, and also talked about the concept of unity in diversity of the country.
He exhorted the students to set a goal and focus to achieve the goal. Mukherjee also expressed his experience with both the governments, under his tenure, one of the former Prime Minister Manmohan Singh and other of the Prime Minister Narendra Modi.
He also appreciated the working of the Prime Ministers under whom he worked as a minister. Mukherjee said that he had wonderful relations with the Prime Minister Narendra Modi and had worked in harmony with him.
"As the President of country, it was a wonderful, pleasant and very good relationship with my Council of Ministers. I had an excellent relationship with all my work mates," he said.
Sharing his experience as the President of India, he said, "During my five year tenure as President, I acted as per the advice of the Cabinet. On some issues, I raised questions to the Cabinet, which were answered. As a minister, I had given lots of advices to the Presidents, under whom I worked as minister headed by PMs Indira Gandhi, Rajiv Gandhi, PV Narasimha Rao, Dr Manmohan Singh. The advices were admitted."
He also shared his interaction with educational institutes and said, "So far, I went to 48 Central universities, 16 IITs, 40 NITs, and many other institutes. I got benefited through these interactions."
Responding to a question asked by a student about the favourite subjects, he firstly sought apology and said, "I was very indiscipline in academic area. In post graduation my first choice was history and second was political science and both are my favourite subject. I have good interest in literature too. I have also read scores of Indian and foreign translated literatures. In my work life most of my portfolios were related to commerce and economics."
While interacting with students, former President also asked students to focus on curiosity of asking questions till the doubts are cleared. He asked teachers to motivate students for asking more questions. "You must know the art of asking questions, continue to ask questions until you are satisfied. The art of asking question, art of knowing, art of having information are the staring quality," he said, asking the student to raise their confidence while citing the examples of Newton, former PM Lal Bahadur Shastri, and APJ Abdul Kalam. He emphasised on education and said that it would change India. Meanwhile, he honoured the students who excelled in various fields.
Top Stories