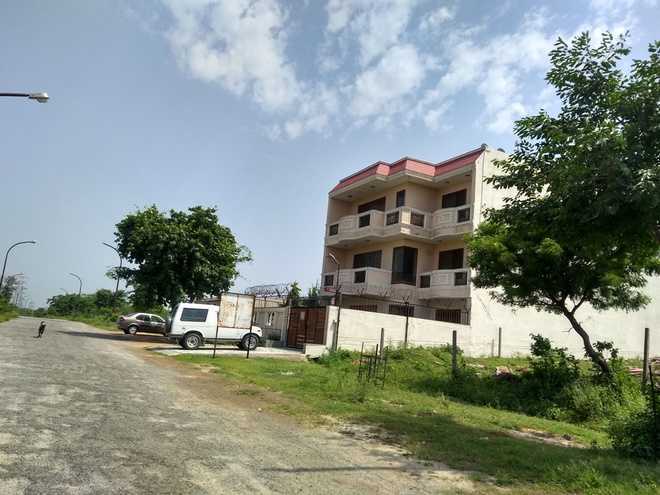 Satya Prakash
Tribune News Service
New Delhi, December 6
The Supreme Court on Thursday permitted the Haryana Government to deposit Rs 16.5 crore in its registry by December 10 for disbursing Rs 50 lakh each to 33 owners of illegal construction in Kant Enclave, Faridabad, in the Aravali Hills ordered to be demolished for violation of environmental norms.
A Bench headed by Justice Madan B Lokur gave the permission after Haryana Government's counsel mentioned before it and complained that in the absence of names of house owners and their bank details it was not possible to disburse the compensation money to the affected house owners.
In an application filed before the top court, Haryana Government said officers of Town and Country Planning visited Kant Enclave and met some of the residents but they were reluctant to share their back details.
While compensation is being given to 33 house owners, the state's application said the officers found that there were 19 houses with ground+2 storey, 8 houses with ground+1 storey and 15 single-storey houses, taking the total to 42 houses. In some of the houses property dealers were operating, it added.
The Supreme Court had on November 28 asked the Haryana Government to disburse Rs 50 lakh to each person whose construction in Kant Enclave, Faridabad, in the Aravali Hills was ordered to be demolished by it for violation of environmental norms and court orders.
A Bench headed by Justice Madan B Lokur – which had on September 11 ordered the Haryana Government to demolish illegal construction that came up in Kant Enclave after 18th August, 1992, and ordered compensation for adversely affected persons — said the amount should be disbursed by December 10.
Haryana Additional Advocate General Anil Grover had pointed out that the court had originally ordered that the burden of Rs 50 lakh compensation amount had to be equally shared by the state government and the builder and that the state can't be asked to pay the entire amount.
Haryana Chief Secretary DS Dhesi – who was summoned by the court – had appeared before the Bench. According to Haryana Government, there were 1617 plots in Kant Enclave and constructions were there only on 33 plots.
Directing the Haryana Government to disburse the amount by December 10, the Bench said it would determine the amount to be paid by the builder on December 11, the next date of hearing.
In its September 11 order, the top court had directed Haryana Chief Secretary to ensure compliance of its orders "in letter and spirit" by December 31, 2018.
Those adversely affected by the demolition order sought time till April 2019 to vacate the land. Their counsel told the Bench that Rs 50 lakh was insufficient as they couldn't even buy two bedroom flats with Rs 50 lakh. They said they were all retired people who didn't have money to pay even rent.
In its original order, the top court had directed the builder — R Kant & Co — to give full refund along with 18% annual interest to hundreds of persons who invested in land from date of investment.
Applying "The polluter pays principle", it had ordered the builder to deposit Rs five crore in the Aravalli Rehabilitation Fund within a month.
"The rule of law seems to have broken down in Haryana," it had said terming the violations as "quite frightening".
The Bench had given liberty to those not satisfied with compensation amount to claim damages from R Kant & Co and Haryana Town & Country Planning Department by filing civil suits.
Out of a total of about 1617 plots carved out by R. Kant & Co. in Kant Enclave, conveyance deeds had been executed only in respect of 284 residential plots and three commercial plots. On the residential plots, only 33 houses had been constructed and it appeared that not one of them was a single-storey hutment.