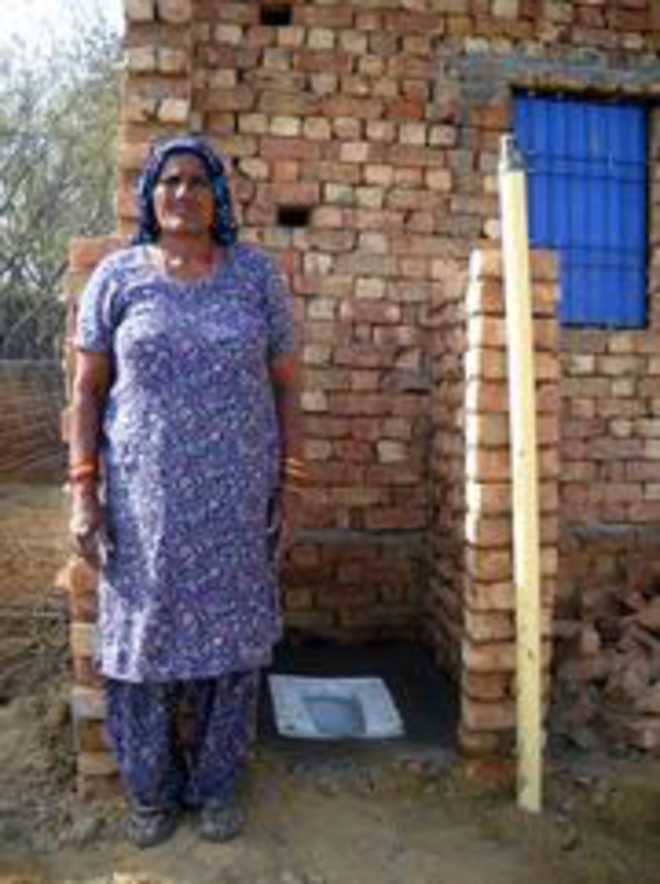 Parvesh Sharma
Tribune News Service
Jind, January 4
The inefficiency of government authorities may deprive scores of the district's below poverty line (BPL) families of seeing construction of a toilet in their homes this year as well.
A look at the figures is enough to blame authorities for the slow pace of construction of toilets. Till date, only 1,888 toilets have been constructed in the individual category as against the target of 13,426 during the ongoing year despite the fact that the final quarter of year has started and the administration has Rs 3.08 crore in its kitty under the Swachh Bharat Mission (SBM).
As per sources, during a government survey in 2012, it came to light that 37,062 families in the district in individual category did not have a toilet. The administration set a target to construct 17,125 toilets during financial year 2013-14, but could construct only 2,625. During the ongoing financial year of 2014-15, things continue to be sluggish as the administration has got only 1,888 toilets constructed against the target of 13,426 so far.
Things are not rosy in other categories as well. To construct toilets in schools, the Union Government has sanctioned Rs 35,000 for each school that enrolls 80 or more students. Only 122 toilets have been constructed in schools category against the target of 270 in the current year. In anganwari category, 122 toilets have been constructed against the target of 150.
Some officers blamed the poor pace of progress on the Lok Sabha and Rajya Sabha elections held in the state in 2014 when no developmental work took place for almost five months due to poll duties.
"We have accelerated the process of construction of toilets and directed BDOs, grams sewaks and others to make necessary arrangements for early construction of pending toilets. I have been visiting various villages to ensure speedy construction," said Jind ADC Gauri Prashar Joshi, who joined the district last month.
Some officers assigned field responsibilities of the project alleged only four staffers were looking after it in the district, but recently some new staffers were recruited. Now, 26 officers are working under Swachh Bharat Mission in the district.
The change in funding share also caused some confusion. Earlier, the government paid Rs 9,100 per toilet, out of which Swachh Bharat Mission was contributing Rs 4,600 and the remaining Rs 4,500 was from MNREGA. On October 2, 2014, the Union Government removed MNREGA funding to the project and increased the per toilet funding to Rs 12,000, all from Swachh Bharat Mission.
Top News