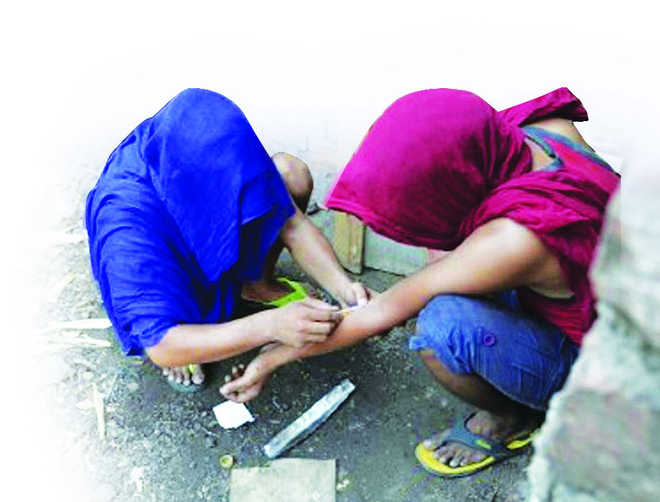 Sunit Dhawan
Tribune News Service
Rohtak, June 24
Sanjay (name changed), who is in his early teens, belongs to a well-to-do family of Rohtak. He was recently brought to the State Drug Dependence Treatment Centre (SDDTC) at the local PGIMS by his father, who was shocked to discover that his son had become a drug addict.
The boy told the doctors he started consuming heroin last year when in Class IX. "He joined a group of boys older than him and started smoking. He was later introduced to heroin and gradually became addicted to it," said a doctor at the centre.
In another case, a government employee brought his two sons — one a Class X passout and the other in Class XII. Both were found hooked on smack. "Each would get Rs 10,000 per month as pocket money. They started demanding more money and their father got suspicious. He eventually discovered they had become dependent on drugs," said a doctor.
As per a study conducted by Dr Vinay and Dr Sunila, both consultants at SDDTC, as many as 268 addicts in the 10-19 years age bracket were registered with the centre between January 2016 and December 2018. Of them, 143 were school dropouts, 89 students, 34 labourers and two were self-employed.
"Adolescents mostly experiment with drugs to counter boredom and loneliness. Most belong to nuclear families and have working parents," explains Prof Priti Singh, SDDTC. "Drug peddlers and adolescents already hooked on drugs target children of affluent families, initially offering drugs for free. When the victims become hopelessly dependent, they are told to pay a tidy sum for a consignment," she says.
Experts point out that easy availability of drugs has led to abuse. They advise parents to seek medical help if they observe any change in behaviour. Teachers too must be sensitised, they say.
---
Telling symptoms in children
Carelessness, reduced interest in studies, communication, physical & recreational activities
Constant fatigue, irritation, involvment in fights, picking arguments
Involvement in illegal activities such as stealing money and accidents
Sudden loss of appetite and body weight; sweating and over-sleeping
Children aged between 10 and 19 years constitute 22.8% of India's population. Yet substance abuse among children has remained grossly under-researched
Top Stories