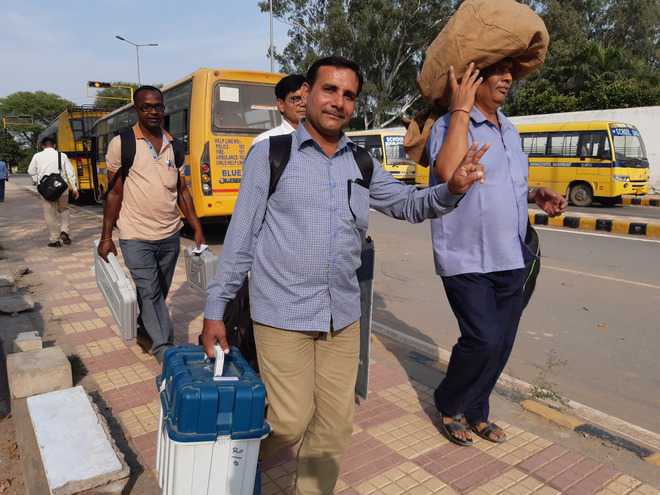 Geetanjali Gayatri
Tribune News Service
Chandigarh, October 20
When Haryana goes to the polls on Monday, it will seal the fate of stalwarts across party lines who have been locked in tough contests. Some of the ministers of the ruling Bharatiya Janata Party have tried to battle anti-incumbency, Congress top leaders are hoping to counter challenges to come out right on the top while the Indian National Lok Dal struggles to survive what is probably its toughest election and the Janayak Janta Party looks to establish itself.
In the BJP camp, its ministers —- Education Minister Ram Bilas Sharma, Finance Minister Capt Abhimanyu, Agriculture Minister OP Dhankar, Urban Local Bodies minister Kavita Jain, Transport Minister Krishan Lal Panwar, Minister of State Krishan Bedi —- are facing stiff competition in their respective Assembly segments while the party state president Subhash Barala is fighting an equally tough battle.
The BJP bigwigs are facing challenges on account of several reasons, including anti-incumbency, strong rival candidates and absence of strong wave in the party's favour. This, coupled with multi-cornered contests in certain seats, is set to make the going tough for the ministers and other senior leaders.
The Congress too is battling its own set of problems with its senior leaders facing the poll heat. Former state Congress chief Ashok Tanwar, who quit the party mid-way, trained his guns on Congress Legislature Party leader and former Chief minister Bhupinder Singh Hooda. Similarly, former CLP leader Kiran Choudhry, in her constituency, has a bête noire in local Member of Parliament Dharambir, who was in the Congress before he joined the BJP. Choudhry, however, has managed to win three straight elections.
AICC media in charge Randeep Singh Surjewala in Kaithal is up against Lila Ram, formerly an INLD leader who is now the BJP candidate. In Thanesar, former INLD state president Ashok Arora who switched to the Congress during the election will also need to win the keenly contested seat represented by the BJP to keep himself relevant.
While the number of seats the JJP ultimately wins will decide its future, the party's prestige is at stake in Uchana Kalan and Badhra. While former MP and JJP founder Dushyant Chautala is fighting a keenly contested battle with sitting MLA Prem Lata, wife of senior BJP leader Birender Singh, in Uchana, Naina Chautala, who won the last election from Dabwali, is up against former CM Bansi Lal's son Ranbir Mahendra, who is contesting on Congress ticket in Badhra.
In Ellenabad, INLD leader and former Leader of Opposition Abhay Chautala is facing BJP's Pawan Beniwal in a hotly contested election. While the BJP has nothing to lose, winning the seat is a compulsion for Chautala especially in view of the "mass exodus" of leaders the party has seen in the run-up to the poll and the growing popularity of the splinter group headed by Dushyant.
All in all, this Assembly poll will be one of the few tougher elections being contested by the bigwigs across the state.
105 women in the fray
Voters will on Monday decide the fate of minister Kavita Jain and former Congress minister Geeta Bhukkal. Other candidates are BJP's Prem Lata and TikTok sensation Sonali Phogat. This time, 105 women candidates are in the fray.
49% voters under 40 yrs
Of the 1.83 crore voters, young voters hold the key as around 49 per cent are below 40 years of age. A total of 89.41 lakh voters are below 40 years of age, with 3.82 lakh in 18-19 age group.
In close electoral race
BJP: Ram Bilas Sharma, Capt Abhimanyu, OP Dhankar, Kavita Jain, face anti-incumbency, tough rivals
Congress: Former CM Bhupinder Singh Hooda, Kiran Choudhry targeted by former party leaders
INLD: Abhay Chautala battling weak party position, JJP: Dushyant Chautala and Naina Chautala face strong rivals