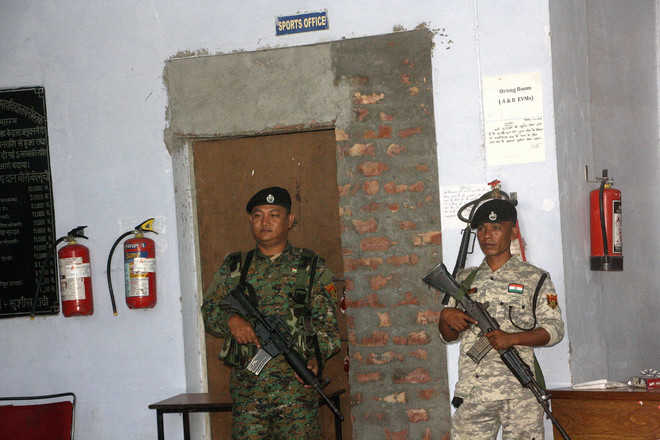 Sushil Manav
Tribune News Service
Chandigarh, October 22
A low profile and short span of campaigning by the Opposition and lack of yearning to oust Manohar Lal Khattar government and dissatisfaction over some of its moves seem to be the reasons behind low turnout in the Assembly poll.
The voter turnout touched 68.31 per cent, with Joint Chief Electoral Officer Inder Jeet saying the figures may again change slightly when entire data is tabulated.
Even at 68.31 per cent, there was a sharp drop from the 2014 Assembly elections, when 76.54 per cent voters exercised their right to franchise. In the Lok Sabha elections, turnout was higher than Monday's turnout.
Sampat Singh, former minister, said high turnout was considered against the government while less people coming out to vote generally favoured the incumbent government.
"In 2014, people of Haryana voted to oust the Congress government. They came in large numbers to cast their vote. In contrast, when people are not unhappy with a government or want to continue with the present regime, they do not show any urgency to come to polling booths," he said.
The former minister said turnout depended on local factors too. "Wherever people want to get rid of the sitting MLA, the turnout is high. On seats where voters are happy with the present set-up, they do not feel it necessary to vote. This explains high turnout on keenly contested seats," he said.
The general mood was different among Jats in former Chief Minister Bhupinder Singh Hooda's bastion of Rohtak, Sonepat and Jhajjar. A majority of them wanted to oust Khattar government and their mood reflected in high turnout there.
Among a majority of non-Jats, the general mood was to elect Khattar government although people had complaints with heavy fines for vehicular challans, online procurement and slowdown in business.
Another reason for low turnout was low-key and short-duration campaign by the Congress.
The party replaced its state president Ashok Tanwar with Kumari Selja and CLP leader Kiran Choudhry with Bhupinder Singh Hooda barely 15 days before the announcement of elections. After ticket distribution and release of manifesto, the party was left with 10 days of campaigning.
Selja admitted that had the leadership change occurred immediately after the Jind bypoll in January, the results of parliamentary elections could have been different.
Sources said the Congress could not take public issues effectively among the people and a large section considered government better than the previous Congress regime, as exit polls suggested.
The overall voter turnout has been the lowest in the past 23 years. In 1991, the overall voter turnout was 65.86 per cent.
68.31% Final voter turnout
Highest 83.62% in Ellenabad followed by Tohana 80.55%
Lowest 49.18% in Badkhal 2nd lowest in Faridabad 49.63%