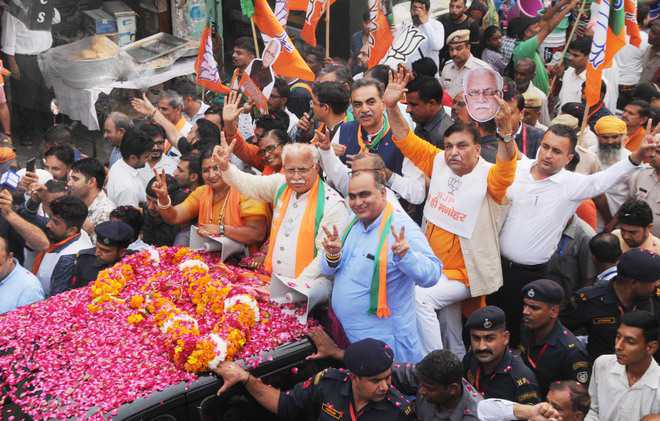 Bhartesh Singh Thakur
Tribune News Service
Chandigarh, October 20
With the Opposition raising unemployment figures in the state and the BJP relying on Article 370 and nationalism to retain power, it is now up to 1.83 crore voters to decide on Monday what matters more.
Cashing in on the popularity of Prime Minister Narendra Modi, the BJP kept the discourse around Article 370 and nationalism. Modi and Union Home Minister Amit Shah kept asking the Congress questions on abrogation of Article 370, but the grand old party did not react much. Along with the JJP, it kept elections around local issues.
Through Article 370, the BJP wooed families of service personnel and the Valmiki community. Modi also talked about stopping the flow of water into Pakistan and bringing it to Haryana. On local issues, the party relied on corruption-free governance and publicised how over 50,000 government jobs were given without bribe and recommendation.
The Congress remained offensive while targeting the government over jobs to "outsiders" in power utilities, which the government had to cancel during campaigning. It raised the meter scam, post-matric scholarship scam and truck overloading scam.
On the Jat quota agitation violence, the BJP and Congress blamed each other. The BJP claimed violence took place in areas where former CM Bhupinder Singh Hooda had influence. The Congress pointed out that Prakash Singh Committee, formed to look into the riots, blamed the CM's office.
Unemployment drew the attention of every Opposition leader. Quoting the Centre for Monitoring Indian Economy report, the Congress said it was the highest in Haryana at over 28 per cent with over 20 lakh unemployed. Manohar Lal Khattar rubbished the figures, claiming that this centre had Congress links. Throughout campaigning, the BJP skirted the issue.
To lure young voters, the Congress, JJP and INLD promised 75 per cent reservation for local youth in private jobs. With over 85 lakh women voters, the Congress and JJP consistently talked about crime against women. All parties offered sops to women in manifestos.
"National issues have always dominated in Haryana because of its economic dependence on and geographical and ethnic contiguity with Delhi. A number of locals are in the armed forces and work in Delhi. Regional identity has never been strong in Haryana as it is not born out of any movement. The saffron party is right in picking national issues. Since Pulwama helped, why not Kashmir?" said Prof Ashutosh Kumar, department of political science, Panjab University.
Top Stories