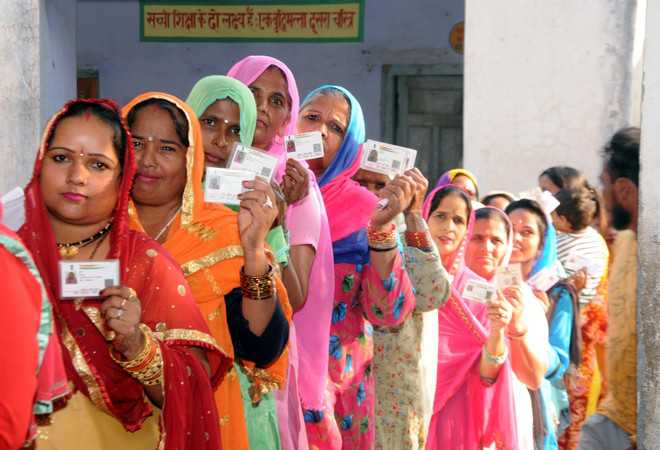 Geetanjali Gayatri
Tribune News Service
Chandigarh/Ambala, Oct 21
Unlike the Lok Sabha elections earlier this year when women voters stayed away from rallies and village programmes of candidates, the Assembly elections stirred some interest among the fairer sex as they came out of homes not only to hear out candidates, but also to participate enthusiastically in the polling on Monday in the entire state.
Notwithstanding the high turnout of women, stepping out of the shadow of male members of the family and casting their vote independently still seems a far-fetched idea to them.
In Khizarpura village of Kurukshetra district, Anjali says women attended a few programmes in her village. "We heard speeches of every candidate who visited my village. But when it comes to voting, we go by the choice of our elders in the family. They understand politics more than we do," she says as she waits for her turn to vote.
Sneh Lata of Ambala's Babiyal village is quick to name candidates of two rival parties and proudly says she heard their speeches. "I was at home when the two candidates visited my village. I stepped out with neighbourhood women to attend their rallies. Elections are a time to see leaders in person. The atmosphere is festival-like. But women don't have a say in voting, though they are free to attend any programme," she adds.
Rekha Rani of Bitha village echoes similar sentiments. "We enjoy the election time but, ultimately, it is men who decide for us. If voting for candidates of men's choice makes them happy, what is the harm? In any case, we have no interest in politics," she says.
When Kaushalaya Devi of Sarai Sukhi village was asked whether or not she knew who was contesting from her Assembly segment, she says, "My family is committed to a particular party. Irrespective of who gets the party ticket, we will vote for that party only. There has been no dispute about it ever."
Working in the field, Ishro Devi of Pratapgarh village says she cast her vote early in the day so that she could return to work. "I have no idea who is contesting the elections. I blindly followed the directions of my husband. He told me which button to press and I did that."
The office of the Chief Electoral Officer, Haryana, in keeping with the convention, had run extensive campaigns to rope in women voters and established an all-women "Sakhi booth" in each Assembly segment. There are 104 women in the fray. This number is down from the last time, when 116 were in the fray.
The turnout of women voters was slow to pick pace. Most of them reached polling booths by afternoon after finishing their daily chores. But they definitely made their presence felt as the day progressed.
Women enjoy the election time but, ultimately, it is men who decide for us. If voting for candidates of men's choice makes them happy, what is the harm? In any case, we have no interest in politics. – Rekha Rani, native of ambala's bitha village
I cast my vote early in the day so that I could return to work. I have no idea who is contesting the elections. I blindly followed the directions of my husband. He told me which button to press and I did that. – Ishro Devi, resident of pratapgarh village