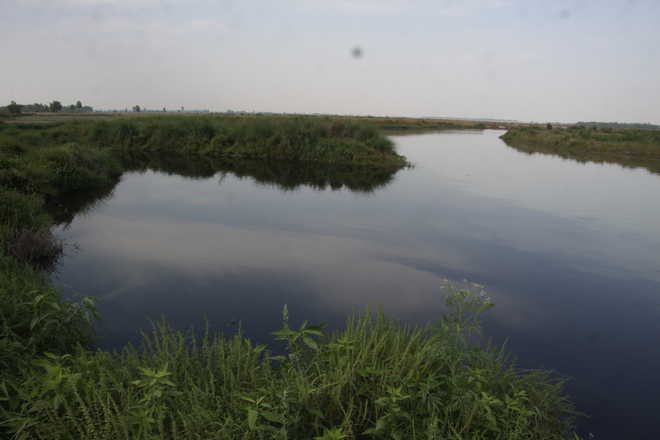 Parveen Arora
Tribune News Service
Karnal, April 22
Polluted water containing toxic waste continues to be discharged unabated in the Yamuna river. For the last 12 years, the Dhanaura Escape, a drain which was constructed to divert the extra water of Western Yamuna Canal and rainwater, has been used as a carrier of toxic water to the fields as well as to the Yamuna.
Besides polluting Yamuna, it has made the lives of residents miserable. More than 25 villages in the vicinity of drain are affected by it. The toxic water discharged from the industries of Yamunanagar and Karnal districts has allegedly reduced the quality of the groundwater by mixing metal and chemical contents in it.
The untreated water has affected the productivity, resulting in losses to farmers of Kalri Jagir, Dabkoli, Mundogarhi, Bajidpur, Nalikhurd, Mahamedpur, Khirajpur, Sadapur, Majra, Chora, Modipur, Dalwala, Andheda, Shergarh, Jadauli, Dabarki, Garhi Birbal and others villages in the district.
Sewa Singh Arya, state president, Bharatiya Kisan Union (BKU), said, "We have been facing problems due to the discharge of untreated toxic water in the drain, which has affected the fertility of the soil and has also reduced the crop yield."
He said, "We had raised the issue at various platforms and also protested for the cleanliness of the drain, but all in vain."
The situation is prevalent even after the Haryana State Pollution Control Board (HSPCB) claimed that industries polluting the river had been sealed.
Mahipal, Satpal and Same Singh, residents of Jadoli village, alleged that even after several protests by them, neither the pollution control board nor the industries had taken any action.
Nirmal Kashyap, Regional Officer, HSPCB, said, "Several industries, including two distilleries, have been sealed. The government is serious about the matter. One more STP has been sanctioned near Radaur. The Irrigation Department will construct another STPnear the drain."