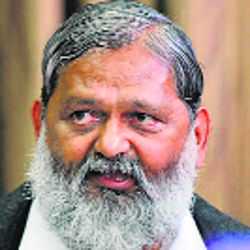 Nitin Jain
As many as 998 patients have been treated at a cost of Rs 3.35 crore under the Ayushman Bharat National Health Protection Scheme in Ambala district so far. Besides, 47,558 beneficiaries have been issued e-golden cards to avail of online benefits of the Prime Minister's national programme aimed at covering over 10 crore poor and vulnerable families by providing coverage up to Rs 5 lakh per family per year for hospitalisation.
Health Minister Anil Vij says that the Ayushman Bharat National Health Protection Mission has subsumed the ongoing Rashtriya Swasthya Bima Yojana and the Senior Citizen Health Insurance Scheme.
Vij says that Rs 3.36 crore has been released for the treatment of 998 patients in Ambala district. The bills of around Rs 1.68 crore each have been raised by both government and empanelled private hospitals. In Ambala, 15 of the 22 empanelled hospitals are private.
He says that all empanelled hospitals have been issued clear instructions to follow the scheme protocol strictly and no negligence or wrongdoing will be tolerated.
44,122 health cards issued, says Anil Vij
Besides issuing e-golden cards to 47,558 beneficiaries, 44,122 eligible persons in Ambala district have been given health cards since the launch of the scheme by the Prime Minister on September 23, 2018. —Anil Vij, Health Minister