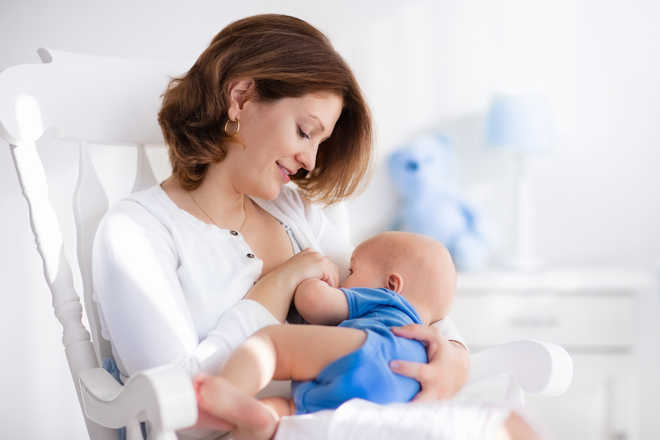 New Delhi
One of the most important aspects of motherhood is breastfeeding the newborn. Breastfed infants have a stronger immune system and are healthier in the longer term.
"Although much has been written about the benefits of breastfeeding in infants, what is also true is that it is beneficial for the mothers as well. Ranging from helping in losing post pregnancy kilos to averting the risk of breast cancer, nursing the infant is a win-win situation for both the mother and the baby," says Dr Nandita Palshetkar.
(Follow The Tribune on Facebook; and Twitter @thetribunechd)
The early motherhood phase is full of hormonal changes as the body gets back to a more normal routine post pregnancy. It is natural for women to feel low, tired, and agitated, thanks to lack of sleep and frequent breastfeeding sessions. There may be times when all they want to do is give up feeding and get the baby habituated to a bottle.
However, it is important to understand that the benefits of breastfeeding for both the mother and the baby outweigh all these emotional and physical changes.
The first few days after birth, the breasts make what is called the "first milk" or colostrum. This is a thick, yellow liquid and is rich in nutrients essential for the newborn. Colostrum also helps in the development of the digestive tract in the newborn and further, in digesting breast milk. And the benefits do not just stop at the baby but extend to the mother as well.
There is a fear in some women that breastfeeding will hamper their physical appearance. However, the fact is that this practice only has benefits for them. Here are some reasons why.
Benefits of nursing the baby
Studies indicate that in women who breastfeed regularly, the chances of developing breast cancer come down by as much as 25%. The longer a mother breastfeeds, the lesser she is at a risk of getting breast cancer. Additionally, this practice also reduces the chances of uterine and ovarian cancer. The low estrogen levels in this phase help keep cancers at bay.
Breastfeeding aids in family planning. This is because it delays ovulation by producing prolactin. Prolactin delays the production of estrogen and progesterone and therefore keeps the ovulation in check. Thus, breastfeeding is also a way to practice natural child spacing for mothers. Nursing mothers have better emotional health according to studies. Women who breastfeed frequently have lesser chances of developing postpartum anxiety and depression and bond better with their baby.
Research indicates that women who do not breastfeed have a four times greater chance of developing osteoporosis. They also tend to suffer more hip fractures post menopause. Not only this, breastfeeding helps a woman shed all that pregnancy weight. Nursing the baby is known to burn around 500 calories a day. It also reduces the hip circumference and helps new mothers lose fat. Nursing the baby helps in the production of oxytocin, which helps the uterus contract faster post childbirth. It also helps in controlling excessive blood loss in new mothers.
Pregnancy decreases glucose tolerance and raises resistance to insulin, thereby increasing the chances of gestational diabetes.
Also, the additional fat stored during pregnancy can increase the chances of diabetes in women. Studies confirm that lactation helps in balancing this condition in the mother. A study has found that in a woman who breastfed her baby for a longer duration, the chances of Type 2 diabetes come down significantly.
Some added benefits
Not only is breastfeeding beneficial for health but also cost effective as it does not incur any costs unlike formula milk. Depending upon the brand, type and amount consumed, formula milk can weigh heavily on the pocket but not provide the health benefits that a mother's milk can give. Naturally nursing the baby is also environment friendly as it does not generate waste in the form of plastic bottles and formula cans.
Breastfeeding is a natural act for both the mother and baby. However, it does take some time for both to get adjusted to the routine and technique. Although there are numerous benefits of breastfeeding for mothers, nothing equals the sense of fulfillment and bonding it offers. It is a unique experience both for the mother and the baby and helps in developing a strong physical and emotional connection between the two. —ANI
Top News
India has never been defensive about its stand on buying Rus...
Police say Adil Wani killed Sunil Kumar Bhat in an orchard i...