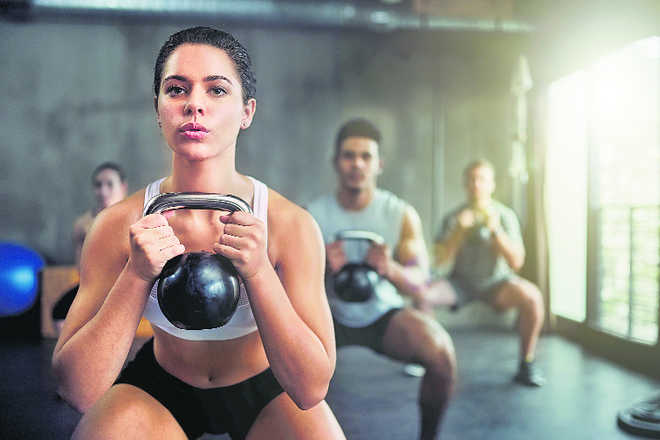 Dr Ramananda Srikantiah Nadig
Staying healthy and energetic throughout life is the one desire most people would have but the lack of awareness about how and what to do may not let this dream turn into reality. It is a proven fact that the more physically active you are, the slower will be the ageing process. That you will also be thwarting several age-related ailments is a bonus.
A healthy and balanced diet must be supplemented by regular physical activity across all age groups. Given that every person's body has different limitations and capacities that continually change with age, the fitness regimen must also be age-specific for it to work.
Trim in the twenties
The twenties are all about figuring out the exercise or sport that suits you best. Apart from the fact that you are in the best phase physically, all your vital parameters such as muscle mass, bone density and aerobic health will aid in the fitness effort. This is, therefore, also the best time to try out new regimes.
Both men and women should focus on improving their muscle and bone health — resistance training can help in achieving strength. This should be undertaken thrice a week with exercises that allow the joints to achieve their full range of motion. Women can opt for aerobic training and high-intensity interval training (HIIT) about thrice a week. Focus on preventing injuries with stability exercises such as yoga, which are also a great way to warm-up or cool-down before the main session.
While you are at your youthful best, it is imperative to try and get the best out of the physical training undertaken. Ensure that you do not go overboard — this is particularly true for men and women who have started a new sport.
Thin in the thirties
Life in the thirties is more about increased responsibilities, work-life balance, and finding time for yourself. Both men and women gain body fat and weight as their metabolism is slower. All of this can become demotivating both physically and mentally. However, the key is to not slow down but plan an efficient fitness regime. This is particularly true for stay-at-home women and those who are not working.
Shorter sessions are a good idea as these will reap benefits and give you enough rest time in between. It is better to undertake a combination of strength and endurance training exercises that work out your entire body. You can also take up activities such as running, jogging and swimming which will gel easily into a busy schedule. Given that this phase of life also brings with it some amount of stress, it is advisable to do yoga or meditation to bring in some balance.
Fit in forties
The forties increase your chances of acquiring lifestyle-related problems and other ailments such as diabetes and high blood pressure. Thus, along with a healthy eating pattern, exercise serves as a preventive measure to keep these diseases at bay. Many people experience a decline in muscle mass and bone-mineral density. For those in a desk job, lack of exercise can mean lower back pain and restricted movement. It is, therefore, imperative that men and women in this age group undertake resistance training and activities such as running and brisk walking. The focus should be on improving and maintaining mobility. Apart from this, some cardiovascular training should also be incorporated at least thrice in a week. Make sure to do adequate warm-up exercises before you begin any training.
In conclusion
When it comes to remaining fit, age can just be a number, provided you start the appropriate time. A fit body will not only ward off potential diseases but also improve the quality of your life. The time to begin is now.
— The writer is head of the clinical advisory board, healthi
Top News
Team of Congress central observers, led by Chhattisgarh CM B...
'Observers sent to the hill state were seeking the individua...
Croatia now await the winner of Argentina and the Netherland...
A bench of Justices MR Shah and CT Ravikumar said that only ...
BJP MP Kirodi Lal Meena moved for leave to introduce the Bil...