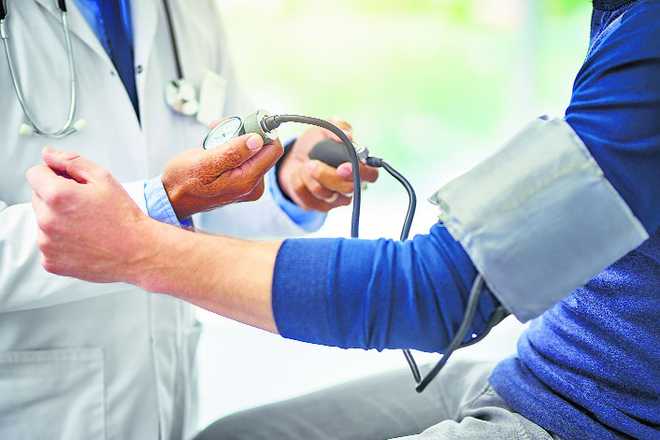 Dr Udgeath Dhir
Hypertension is one of the leading causes of mortality and morbidity around the world. It is also an important risk factor for chronic disease burden in our country.
While 90-95 per cent of patients having high blood pressure (BP) have no clear causes and are classified as having primary hypertension, 5-10 per cent people may have an underlying pathology or a reversible cause behind their high BP (secondary hypertension). Primary hypertension is usually linked to genetics, poor diet, a lack of exercise and obesity. Secondary hypertension, on the other hand, can be caused by a number of uncommon causes or diseases.
Following are some of the not so common yet treatable causes of hypertension:
Kidney diseases like diabetic nephropathy, polycystic kidney disease, glomerulonephritis and nephrotic syndrome, renovascular hypertension (often in patients with coronary or peripheral atherosclerosis) may cause secondary hypertension.
Endocrine diseases such as thyroid problems, hyperparathyroidism, aldosteronism, cushing syndrome, pheochromocytoma affecting body hormone levels may also cause hypertension.
Another uncommon problem is coarctation of the aorta. Usually congenital but may not be detected until adulthood because it is often asymptomatic. Classic symptoms include upper extremity hypertension, delayed or decreased femoral pulses and low blood pressure in the lower extremities.
Other causes include sleep apnea. Common symptoms include headache, fatigue, daytime somnolence, confusion, difficulty in concentrating, depression, personality changes, hypertension, and cardiac arrhythmias. Constant lack of sleep can also increase the amount of stress hormones which can also raise BP.
Obesity, high sugar levels, pregnancy (it can make existing high BP worse, or may cause high BP to develop. Medicines and supplements such as pain relievers, birth control pills, antidepressants, steroids, sex hormones and some anti-cancer drugs used after organ transplants can cause also high BP. Over-the-counter decongestants like pseudoephedrine, phenylephrine and oxymetazoline and herbal supplements like ginseng, licorice and ephedra may cause high BP. Drugs such as cocaine and methamphetamine and stimulants like caffeine may also increase BP.
The Dietary Approaches to Stop Hypertension (DASH) diet is rich in whole grains, fruits, vegetables and low-fat dairy products and low on saturated fat and cholesterol. It can lower BP by up to 11 mm Hg.
According to many studies certain foods can lower high BP.
Beneficial foods
Berries: Blueberries and strawberries contain anthocyanins that help reduce BP.
The American Society of Nephrology has raised concerns over low potassium intake in the diet as a major factor for hypertension. Low potassium intake also raises risk of stroke. Potassium deficiency leads to hypertension because potassium lessens the effect of sodium. The more potassium you eat, the more sodium you lose through urine. Recommended potassium intake for an average adult is 4700mg/day.
Beets: High levels of inorganic nitrate in beets reduce BP.
Watermelon: Watermelon contains an amino acid called citrulline, which helps to manage high BP.
Oats: Oats contain a fibre called beta-glucan, which may reduce blood cholesterol levels and BP levels.
Garlic: Eating garlic can increase a person's nitric oxide levels. Garlic is a natural antibiotic and antifungal food. Its main active ingredient, allicin has many health benefits.
Fermented foods: These foods are rich in probiotics (beneficial bacteria that are vital for gut health). Probiotics have a modest effect on high BP.
Lentils and other pulses: Lentils are an excellent source of vegetarian protein and fibre and can help decreased blood pressure and cholesterol levels .
Natural yogurt: The America Heart Association says that yogurt may reduce the risk of high blood pressure in women.
Pomegranates: Drinking one cup of pomegranate juice daily for four weeks can lower high BP in the short term.
Cinnamon: Cinnamon may also help to reduce blood pressure. A study showed that cinnamon decreased short-term systolic blood pressure by 5.39 mm Hg and diastolic blood pressure by 2.6 mm Hg.
Mushroom: Mushroom consumption is associated with less plaque formation in the brain and protects the brain cells from the progressive damage.
Bananas: Bananas contain potassium, a mineral that is vital in managing hypertension. Other potassium-rich foods are avocado, cantaloupe and honeydew melon, halibut (flat fish), mushrooms, sweet potatoes, tomatoes, tuna and beans.
Kiwis: A daily serving of kiwis can reduce blood pressure in people with mildly elevated levels, says a study. Kiwis are also rich in vitamin C. People who consumed 500 mg of vitamin C every day for about 8 weeks had lowered BP readings.
Dark chocolate: Cocoa-rich chocolate reduces blood pressure in people with hypertension or prehypertension. One ounce of unsweetened chocolate that contains a minimum of 70 per cent cocoa is recommended in a day.
Leafy green vegetables: Leafy green vegetables are rich in nitrates, which help to manage blood pressure. Some studies say eating 1–2 servings of nitrate-rich vegetables daily can reduce hypertension for up to 24 hours.
Foods to avoid
While some foods may relieve hypertension, others can cause substantial increases in blood pressure. Hence these should be avoided
Salt: High sodium intake can significantly raise blood pressure. According to a study, lowering salt intake by 4.4 gm daily substantially reduced systolic and diastolic blood pressure.
Alcohol: Consuming moderate amounts of red wine may have be beneficial, but larger amounts of alcohol can cause dramatic increases in BP. Excessive intake also increases the risk of heart failure, stroke, cancer, and obesity.
—The writer is head, cardiac surgery and cardio-thoracic vascular surgery, Fortis Memorial Research Institute, Gurugram