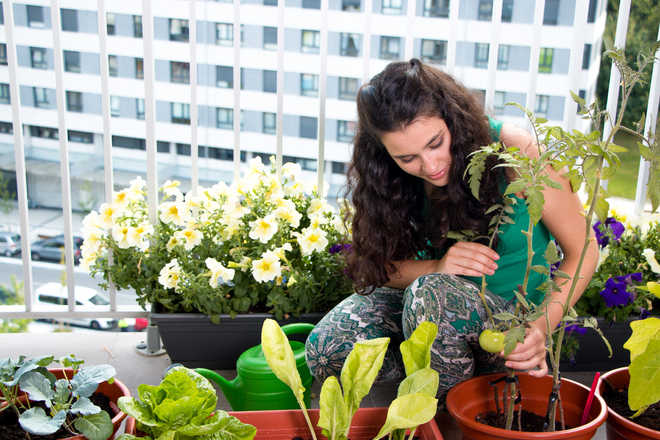 ROBINSINGH@TRIBUNE.COM
Mona
It all comes down to the 'back to nature' after all. Having had enough of the technology, its gains and pains, the urban population is rediscovering the magic of herbs and getting to the roots, or do we say leaves... Tricity balconies are teeming with pots of aloe vera, ashwagandha, basil, calendula, stevia and wheat grass. And no, they are not just for adding greenery, but for health.
While kadi patta, tulsi and pudina have retained their place in Indian gardens and kitchen, the new crops includes exotic names. Naturopath Betty Nangia, who has long used natural concoctions in her products, is happy at this new awareness, "For beauty purpose or health, herbs are the new fad. It works great for our health and environment!"
While individuals are taking baby steps towards living holistically, we are yet to see many commercial herb farming happening here, points out Anil Thakur, Divisional Engineer, Horticulture. He says that the monsoon works best for ashwagandha, green grass, harshingar (Nyctanthes arbor-tristis) that offer a range of health benefits. With the UT Forest Department taking an initiative to get the saplings for the residents is pretty heartening.
Wheatgrass is the new favourite. Seven pots sown over seven days consecutively give an uninterrupted supply of the grass. "The juice extracted from wheatgrass in cold-press boosts one's immunity. It is being lapped up by people with chronic diseases like cancer," shares Naresh Kalia, an advocate, who is into organic farming. As popular are micro greens. Various vegetable seeds like radish and mustards, when grown up to three inches and two leaves, are plucked, including the stem and the leaves. "Rather expensive, micro greens add colour and flavour to salads, soups and sandwiches."
As important it is to have grown the herbs, equally significant is the manner in which one has it. Nutritionist Pallavi Jassal lists that neem and kadi patta infused water works the best while aloe vera pulp mixed with water and ashwagandha leaves, giloy sticks boiled in water offer optimum benefits.
---
They have healing power
Calendula: Calendula can easily be grown in your garden or balcony. It is great for curing most skin-related problems. You can soak some calendula flowers in boiling water and later use this waster to treat a burn, skin infection or insect bite.
Chamomile: An awesome herb that heals! Chamomile flowers have the potential to treat your muscle cramps. These plants are easy to grow and require minimal care. Take fresh or dried chamomile flowers in a cup, add some hot water, and let it cool. Rub this water over your skin three or four times a day. Chamomile tea is very calming to the nerves. It treats insomnia.
Basil /tulsi: The most common herb that adorns each household is also the healthiest herb for monsoon. It acts as a natural antibiotic. This antibacterial plant is a natural remedy for sore throat, fever and cold. Regular intake of two to three fresh tulsi leaves with honey can boost your immunity and make you stronger from within to fight infections.- Betty Nangia, wellness consultant
---
Show that you care
While the UT Forest Department came at your door steps with free saplings last month, it's still not too late. Most government and private nurseries have an array of medicinal plants that one can easily grow in pots/trays. "You don't require expert knowledge to grow them, just a few tips from the nursery and a little love and care are good enough to herbs at home," says Dharminder Sharma, Chief Conservator of Soil and Water Conservation, Punjab.
Top Stories