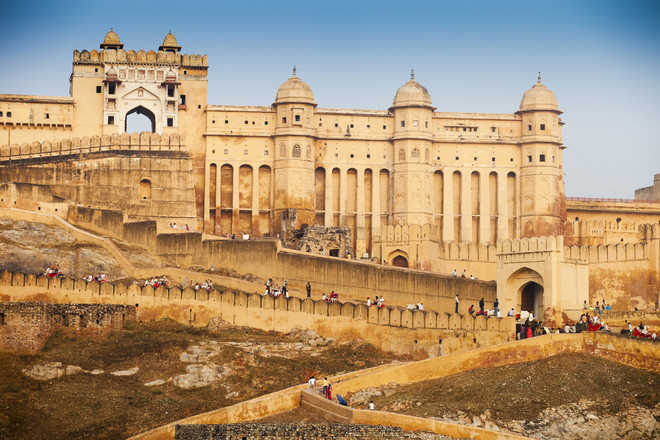 singhking99@yahoo.com
Nivedita Khandekar
Last month, the Pink City of Jaipur was inscribed as the World Heritage City (WHC) by UNESCO. The World Heritage listing by UNESCO is a wonderful reflection of India's diverse cultural and civilisational heritage ranging across centuries.
Though Jaipur, a city already on both domestic and international tourist circuit and a known brand for heritage lovers globally, does not need any tag to justify its legacy or attraction.
"Jaipur already has international visibility and UNESCO branding. However, the sole intention of inscribing Jaipur on the World Heritage list is to protect and safeguard its 'Outstanding Universal Value' which seemed to be getting lost with developmental pressures recently," says Shikha Jain, a consultant associated with the process of getting Jaipur inscribed on the WHC list.
---
What does World Heritage Site mean?
As per UNESCO's operational guidelines: "Outstanding Universal Value" is expressed in World Heritage properties through attributes, tangible or intangible. Attributes that can convey 'Outstanding Universal Value' include form and design, materials and substance, use and function, traditions, techniques and management system, location and setting, language and other forms of intangible heritage, and spirit and feeling. For natural properties, attributes are sometimes called 'features' which include visual or aesthetic significance, scale of the extent of physical features or natural habitats, intactness of physical or ecological processes, naturalness and intactness of natural systems, viability of populations of rare species and rarity.
---
The hidden cost
Naturally, the inscription comes with its Dos and Don'ts list. For instance, "Just the recommendation itself has led to changes such as declaring the walled city as a no-construction zone," she adds. A non-profit organisation in conservation field is inventorying the area. There are architectural control guidelines to be adopted. "One cannot imagine Jaipur without its crafts and craftspeople." These are all part of the World Heritage City inscription.
From tentative list to the coveted tag
The World Heritage tag brings with it a responsibility and as well as an opportunity to do better in future. The International Council on Monuments and Sites (ICOMOS), a professional association that works globally for the conservation and protection of sites of cultural heritage, evaluates and give recommendations to the UNESCO. The sites are initially submitted to a tentative list and then make the final cut on basis of evaluations that are done time to time. For instance, ICOMOS had earlier raised certain objections to Jaipur's proposal. The Government of Rajasthan worked to overcome these objections and the city made it to the WHC list. Even after the property has been inscribed, there are periodic evaluations and monitoring of the progress as per the conditions set up by UNESCO for maintaining a World Heritage Site.
Administrative struggles
At times there is opposition by the local community as it has been widely perceived that one cannot even disturb a brick on the building / area is inscribed on to the World Heritage listing.
According to AGK Menon, a senior conservation architect and a consultant with Indian National Trust for Arts and Cultural Heritage (INTACH), "Now-a-days, as a country can send only one nomination per year, obviously the government will send the entry that stands a good chance of getting selected. For this, not just the site has to be good, but even the dossier preparation needs to be meticulous as well."
For instance, Majuli Islands from Assam has been on the tentative list since 2004 but the Assam Government has not been able to send an error-free dossier with proper documentation. This has highlighted capacity issues faced the administration and also put its intent under scanner.
Then there are cases where the party proposing it withdraws it for various reasons. Delhi's proposal for the World Heritage City was dropped at the last minute after it was almost ready to be sent. The powers that be wanted to expand the infrastructure near the buffer zone of one of two sites listed due to the perception after the inscription all construction in the area would be stopped.
Amritsar's Golden Temple is another example. It has been on the tentative list since 2004. There was vehement opposition to its listing as a World Heritage Site. There are fears that a listing would change ownership and hence it was withdrawn.
Such perceptions and other issues have led to a long pending list of Indian sites on the tentative list.
Harming the legacy
When there is some kind of vandalism, destruction or alteration at the World Heritage Site — built heritage or natural — from the time it was inscribed, UNESCO takes cognizance and sends a letter to the party concerned. The idea is to maintain integrity and authenticity of the property.
There have been two recent incidents of vandalism on two different World Heritage Sites that have been a cause of worry.
A heritage structure, Vrindavana memorial of Shri Vyasaraja Tirtha, a Madhwa saint and scholar, was vandalised by unidentified persons in July at the World Heritage Site of Hampi, Karnataka.
In Ahmedabad, it was municipal corporation authorities themselves which pulled down many unsafe old buildings in June despite knowing that at least 20 per cent of these buildings were part of the heritage listing under Ahmedabad World Heritage City. Several buildings that had helped Ahmedabad get the coveted tag have been either demolished or compromised. This may cost Ahmedabad its place on the World Heritage City list. Ahmedabad has already received a notice and inspection is being carried out to ascertain the status of heritage buildings.
With inadequate staff, under-trained administration and lack of sensitivity among common people, most heritage sites face such dangers every day.
Hampi that also faced vandalism this year had already been put on the 'World Heritage Site in Danger' list by UNESCO between 1999 and 2006. A suspension bridge was being constructed within the protected archaeological area. Protests from the heritage lovers did not deter the authorities from risking a spot in the World Heritage Site. Fortunately, from the heritage point of view, the under-construction bridge on Tungabhadra fell (possibly due to faulty design or poor material used), saving Hampi from being de-listed.
Manu Sharma, a spokesperson for the Archaeological Survey of India (ASI), says, "The temple that was desecrated at Hampi is not under protection of the ASI. But our officials still helped in restoring it."
The ASI that perennially battles a staff crunch can only do so much. A major component missing from the overall narrative is to drive home the importance of heritage — both tangible (built, cultural etc.) and non-tangible.
Local community's lack of enthusiasm
The local community has benefitted less in terms of economic returns vis-à-vis increased arrival of tourists. It gets mired in the official rules related to not changing façade of any building in the protected area, not raising an additional floors etc. if their houses are part of the inscribed area or near a World Heritage Site. The most essential component of heritage conservation is local community's involvement and that is missing. Adaptive re-use of heritage is an idea that has not been given much credence to in India.
So, ultimately, it will be for the people to decide what to do with the over-abundance of built heritage around them.
---
A few of the sites on Unesco's World Heritage List
Cultural
Agra Fort (1983)
Taj Mahal (1983)
Ajanta Caves (1983)
Ellora Caves (1983)
Khajuraho group of monuments (1986)
Archaeological site of
Fatehpur Sikri (1986)
Group of monuments at Hampi (1986)
Elephanta Caves (1987)
Humayun's Tomb, Delhi (1993)
Qutab Minar and its monuments, Delhi (1993)
Mountain Railways of India (1999, 2005, 2008)
Red Fort Complex (2007)
Hill forts of Rajasthan (2013)
Rani-ki-Vav (the Queen's Stepwell) at Patan, Gujarat (2014)
Nalanda Mahavihara at Nalanda, Bihar (2016)
Historic City of Ahmedabad (2017)
Natural
Kaziranga National Park (1985)
Manas Wildlife Sanctuary (1985)
Nanda Devi and Valley of Flowers National Parks (1988,2005)
Sundarbans National Park (1987)
Western Ghats (2012)
Mixed
Khangchendzonga National Park (2016)
---
A Few of the over two dozen sites on the Tentative List
Group of monuments at Mandu, MP (1998)
Ancient Buddhist Site, Sarnath, Varanasi, UP (1998)
River Island of Majuli, Brahmaputra River in Assam (2004)
Desert National Park (2009)
The Qutab Shahi Monuments, Golconda Fort, Charminar, Hyderabad (2010)
Mughal Gardens in Kashmir (2010)
Dholavira: A Harappan City (2014)
Sites of Saytagrah, India's non-violent freedom movement (2014)
Archaeological remains of a Harappan port-town, Lothal (2014)
Cold Desert Cultural Landscape of India (2015)
The historic ensemble of Orchha (2019)