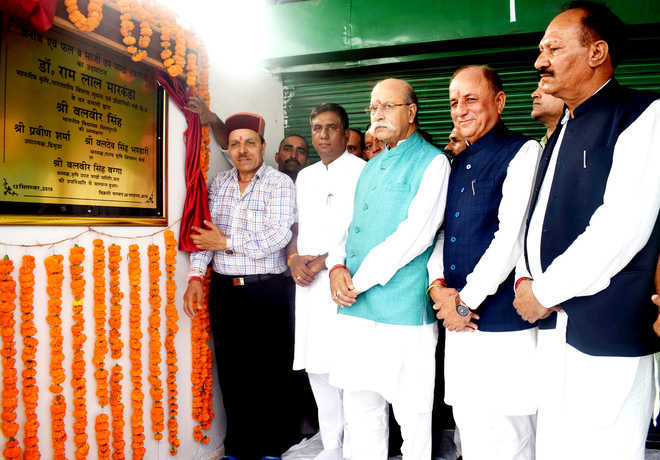 r Correspondent
UNA, SEPTEMBER 13
Agriculture Minister Ram Lal Markanda today said that Himachal Pradesh will be transformed into a natural farming state by 2022. Speaking at Takarla village in Amb sub division after inaugurating a vegetable, fruit and grain sub-market, he said the state government had planned to take the services of 50,000 master trainers to educate farmers about the concepts of natural farming.
Markanda said besides chemical fertilisers, even organic field inputs were proving harmful to crops and human health, leading to diseases. He said natural farming was the best recourse towards maintaining ecosystem and sustainable farming.
The minister said Rs 1.59 crore has been spent on the construction of vegetable market in Takarla, adding that new infrastructure will be added to the market through funds by the Japan International Cooperation Agency (JICA). Markanda said JICA was funding Rs 1,100 crore for agriculture projects in the state and that detailed project report for constructing new shops, parking, farmers' rest house, cold store and boundary wall at the Takarla market has been finalised.
The minister flagged off a soil testing van, which will check soil samples of agriculture fields. The van has a laboratory besides soil science experts who will guide farmers about the elements their soil lacks so that they can supplement these to get bumper farm produce, he said.
Markanda earlier presided over a kisan fair under Jal Shakti campaign in Tiuri village where he called upon farmers to conserve water by adopting new techniques like sprinkler and drip irrigation systems instead of flood irrigation. He also inspected a plot in Rampur village where the district vegetable and grain market is proposed to be constructed. The market will have 40 shops and 20 booths, said the minister, adding that infrastructure for cold chain stores for preserving commodities with short shelf life will also be provided.