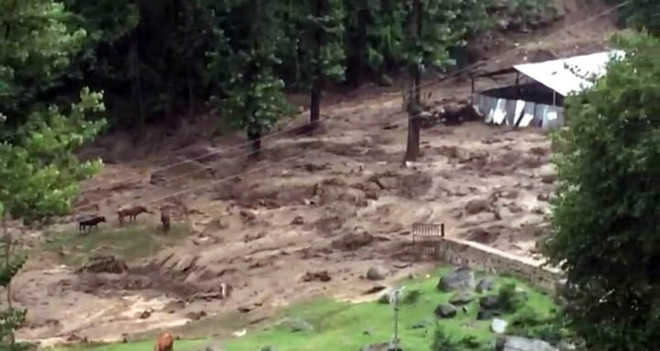 Dipender Manta
Tribune News Service
Mandi, August 14
Twelve cattle were swept away in flood waters near Bajuara in Kullu district on Monday following cloudburst. A few houses were also damaged.
According to witnesses, the gushing waters damaged a Gau Sadan, sweeping away 12 cattle. The matter came to light on Tuesday when the incident, captured by a local in his mobile phone, uploaded it on social media. In the video clip, the cattle could be seen being swept away with the gush of flood waters.
The district administration rushed to the spot but it was too late. However, a few injured animals were rescued and transported to Kullu for medical treatment.
Talking to The Tribune, Dinesh Chauhan, Pawan Thakur and Avinash Kumar Garg said it was a horrific scene that the cattle were trying to escape but in vain. The next day, their bodies were found there.
They said Gau Sadan was constructed close to the rivulet, putting the safety of cattle on stake. The local deity had warned the people one month ago to shift these to other place but the direction was not followed.
People said the district administration should construct a Gau Sadan at safe places to avoid danger to the stray cattle. DC Yunus Khan said a majority of these had been shifted to safer places a few days ago. Some sick cattle were in Gau Sadan which were also shifted in the morning. He said the bodies of five animals were found but these were not of Gau Sadan. The cattle, which died, were brought here from nearby villages. Incessant rain had wreaked havoc in Kullu district, damaging public and private property worth Rs 20 crore.
Top News
The nasal vaccine—BBV154 -- had received DCGI approval in No...
Egypt's President Abdel Fattah al-Sisi is the chief guest at...
Announcement was made by Adviser to the UT Administrator Dha...
It reflects the 'myopic' mindset of those in power at the Ce...
In the last year, more than 70,000 people globally have been...