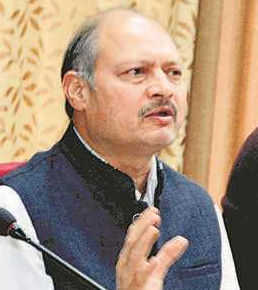 Tribune News Service
Shimla, October 29
Chief Secretary Shrikant Baldi today presided over a meeting of the state-level task force for the promotion of organic/zero budget natural farming under the Prakritik Kheti Khushhal Kisan Yojana (PKKKY).
He said big events should be organised to give a boost to natural farming. While appreciating the progress of the PKKKY in the state, he said the target to train 50,000 farmers had been fixed in the current year.
"As many as 20,579 farmers have been trained so far, out of which 15,391 have started practising natural farming in their fields. Out of the total 3,226 panchayats in the state, 2,209 have been brought under the ambit of the scheme," he added.
He said during 2019-20, out of the total allocation of Rs 19.03 crore, Rs 14.36 crore had been drawn and allocated to all districts for different activities.
It was decided at the meeting that a master trainer would hold five training sessions per month till March to enhance the quality of training.