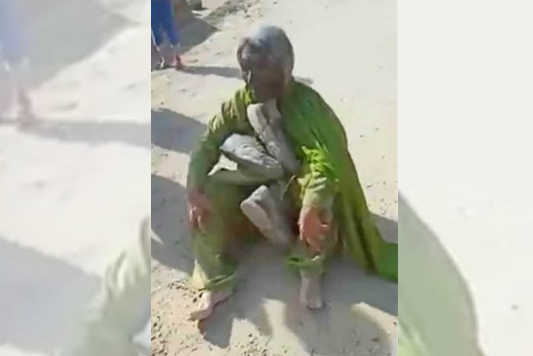 Dipender Manta
Tribune News Service
Mandi, November 10
A day after the video of a 70-year-old woman taken as a sorceress being beaten up by religious fanatics at Samahal village of Sarkaghat went viral, 21 persons were today arrested.
In the video, the woman was seen garlanded with shoes, her face blackened with ink before being paraded in the area. A case was registered under sections 147, 149, 452, 355, 435 and 427 of the IPC.
The Mandi police had raided the village yesterday evening. The 21 accused will be produced before the court tomorrow to seek their police remand for further interrogation.
Talking to The Tribune, Mandi Superintendent of Police Gurdev Chand Sharma said: "The incident took place on November 6 but no one reported it to the police. On November 9, the video went viral on the social media after which we approached the complainant and recorded her statement. An FIR has been registered in the Sarkaghat police station. Those arrested include seven women."
Those arrested are: Dhantar Singh, Balam Singh, Uttam Chand, Ritesh Parmar, Rajinder Singh, Sonu Parmar, Sunil Kumar, Vavitar Sigh, Anil Kumar, Ajay Kumar, Amit Kumar, Manoj Kumar, Nisha Devi, Dipak Thakur, Amar Deyi, Anil Kumar, Kamla Devi, Simro Devi, Salochana Devi, Shauntla Devi and Vimla Devi.
Sharma said the villagers were planning to gherao the police station today but the police decided to deal with the offenders strictly. "All those involved in the shameful act will not be spared," he said.
According to sources, villagers are trying to pressure the police by quoting the local deity to justify their illegal act. The "gur" of the local deity were involved and instruments such as drums and bells of the deity were used by the accused when the victim was assaulted and paraded in the area.
All social activists of the district have demanded stern action against the accused to ensure fear of law among such religious fanatics.
7 women among accused
The Mandi police had raided Samahal village of Sarkaghat in Mandi on Saturday evening
The 21 accused, including seven women, will be produced before court on Monday to seek their remand
Mandi SP Gurdev Chand Sharma said the incident had taken place on Nov 6 but no one reported it to the police. "After the video went viral, we approached the complainant and recorded her statement."