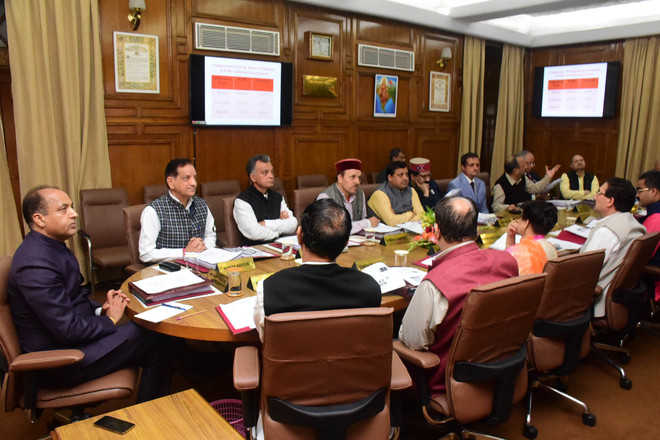 Tribune News Service
Shimla, July 24
The monsoon session of the Vidhan Sabha will be held here from August 23 to August 31.
The decision was taken at the Cabinet meeting here.
The Cabinet decided to allot Duggar hydro electric project with capacity of 449 MW in NHPC for a period of 70 years after completion of which the project will revert to the state government with specified generation capacity, free of cost and free from all encumbrances. In order to redress the long-pending demand of Bhakra Dam oustees, the Cabinet decided to give relief to the oustees and their families and approved necessary amendments in the policy.
The Cabinet decided to fill 218 posts of pharmacist batch wise in Health and Family Welfare Department on contract basis. Consent was given to start Mukhya Mantri Awas Yojna for providing assistance of Rs 1.30 lakh BPL houseless families for construction of house in rural areas of the state. The Cabinet gave approval to start Mukhyamantri Yuva Aajeevika Yojana, 2018, to promote self-employment opportunities in the state and to provide livelihood to local youth in the 18 — 40 age group by encouraging local entrepreneurship.
In order to provide succor to the farming community, the Cabinet approved implementation of Mukhya Mantri Khet Sarankshan Yojna and Mukhya Green House Renovation Scheme in the state.
The Cabinet decided to implement Ayushman Bharat-Pradhan Mantri Rashtriya Swasthya Suraksha Mission in the state. Nearly five lakh selected families will be provided health insurance cover of Rs 5 lakh per annum at 175 registered hospitals. The Cabinet decided to enhance the honorarium of cook-cum-helpers engaged under the Mid Day Meal Scheme in Education Department from the existing Rs 1,500 to Rs 1,800 per month with effect from August 1, 2018. This will benefit about 22,000 persons.
It also approved Rent a Cab Scheme, 1989 and Rent a Motor Cycle Scheme, 1997 under which Rs 40,000 per annum will be charged for renting a cab and Rs 20,000 for renting a motor cycle. Under this scheme licence will be issued to the interested parties having a fleet of 50 motor vehicles under Rent a Cab Scheme and minimum of five motor cycles under Rent a Motor Cycle Scheme.
It also gave approval for policy guidelines for extraction and utilization of un-economical salvage timber and approved policy for collection and removal of chil pine needles for setting up of small scale industries.
The Cabinet also decided that Kargil Day will be celebrated all over the state right up to block level.
Certificates now
The Cabinet gave approval to producing vaccination certificates during admission to the first standard in all government and private schools. This will ensure that all children in the age group of five years get vaccinated.
Top News
No immediate report of any loss of life or property; People ...
Earlier, Amritpal was caught in CCTV footage at a toll plaza...
Police have arrested 154 people so far but Amritpal is still...
Stringent National Security Act has been invoked against Amr...
In his first reaction to the police action, the CM releases ...