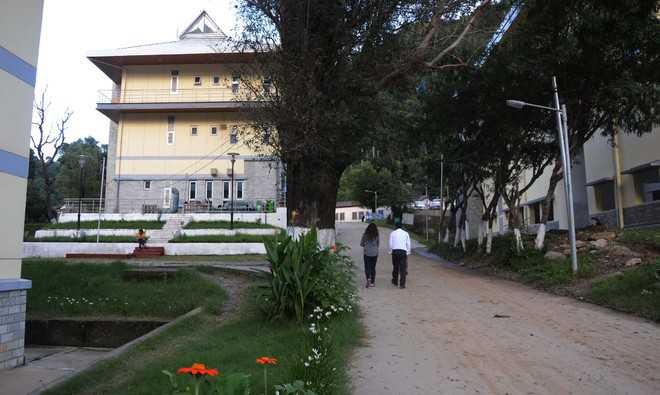 Tribune News Service
Mandi, November 26
To provide better job opportunities to students in private sector, the Indian Institute of Technology (IIT) Mandi is set for another year of strong placements. The number of companies registered for phase I placements has gone up to 45 compared to 34 the previous year.
According to the IIT authorities, 78 students have been placed as compared to 86 during 2017-18 academic year. Of these, 17 students got placed through Pre-Placement Offers (PPO). This includes two international PPOs made this year.
The total number of companies that gave PPOs was 10 compared to seven in the previous year. The prominent sectors in which PPOs were made are software development and analytics.
Dr Varun Dutt, Adviser, Career and Placement Cell, IIT Mandi, said, "We are hosting separate drives for Core and Information Technology (IT) branches. This separation is helping the students to decide better which companies to look for. This also reduces chances of overlaps. This year, we are keeping the placement process per company longer to give more time to companies to conduct their process, reducing stress on students. Furthermore, we are also inviting non-core companies to provide more opportunities to students."
"The number of students sitting and eligible for placements in 2018-19 is 110, compared to 99 students last time. Around 10 per cent of students usually prefer to go for civil service examinations and opt out of placement process.
He said some companies that offered PPOs at IIT Mandi include Goldman Sachs Group, the top PPO recruiter with four PPOs, Amazon.com, Microsoft Corporation, Siemens, Samsung Delhi, SMS Datatech, Tonichi Insatsu, MAQ and Wipro.
The ISRO has also made two offers to IIT Mandi students this time. Top International recruiter for 2018-19 is SMS Datatech, Japan. Many companies are coming to IIT Mandi for the first time this year.
These companies include Tork Motor Cycles, SMS Data Tech, Domino Data Tech, Sapient, Shopx, Assanjob, Yodlee, Cortex, Optiver and Global Design Arena.