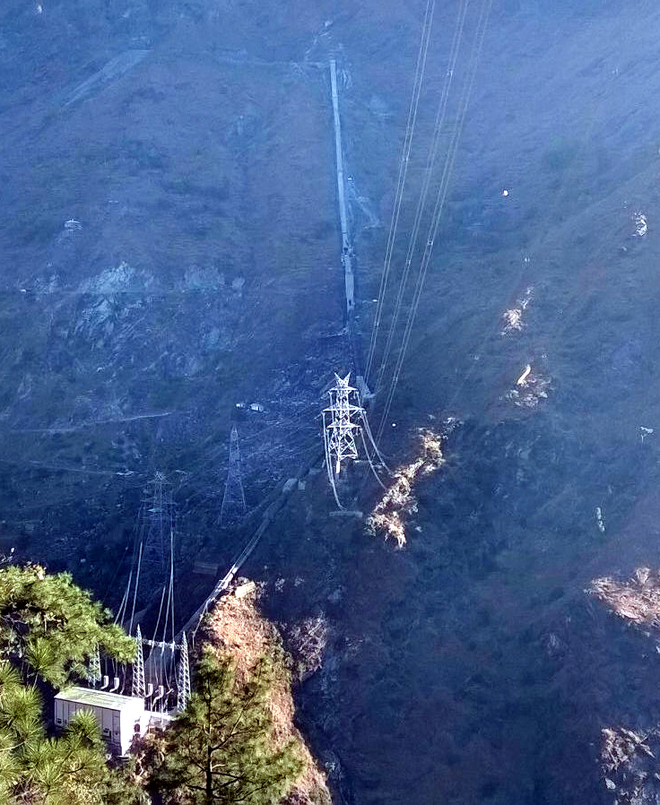 Kuldeep Chauhan
Tribune News Service
Shimla, November 19
Angry residents of the Rupi panchayat and experts have accused the Nagarjuna Construction Company, executing the 100 mw Sorang power project in Kinnaur, of playing with the lives of the locals. They said neither the company, nor the monitoring cell of the Directorate of Energy had learnt any lesson from the past incidents.
"The company and the monitoring cell do not follow safety norms and standard operating procedure set by the Central Water Commission (CWC)," power project experts said.
"Such mishaps have claimed a number of lives. Not only this, the companies too suffer huge losses while generating electricity every year," they said.
"Although it is mandatory for the power project to deploy experts in electrical, civil and dam safety fields during the testing and commissioning of the project, the standard operating procedure is often ignored," said engineers.
In case of Sorang project, the company was commissioning the 50 mw unit-II yesterday and there were no "third party testing experts" present to carry out the testing, said sources.
Previous incidents speak volumes of the ignorance of the company. At Baragaon, Malana and Prini in Kullu and Chamera in Chamba, Rongtong in Spiti, two young engineers were killed.
At the 120 Bhawa project, a fire broke out after reconditioning the transformer on January 22. The 126 mw Larji power project in Mandi on the Beas river which suddenly released water without following safety norms washed away 25 Hyderabad engineering students during their holiday trip to Manali on June 8 last year.
"The Nagarjuna company is not bothered about the safety of the locals as both water reservoir and penstock of the project run in the upper steep hill above Dogri houses located downstream along slopes," said Rupi panchayat pradhan BS Negi.
The residents are living under fear as the pipes of penstock can burst anytime as it happened last night while they were asleep.
The tribals urged Sub-divisional Magistrate Bhawanagar Neelam Dulta to ask all private companies in Kinnaur to ensure safety while running hydropower projects as the pipes can burst anytime.
The companies must be brought to task and pay the damages, they demanded.
Senior manager, Sorang project, Anup Kumar said the company had deployed experts from Voith company which had supplied the equipment for the project, complying with all safety norms. It was an accident, he said.
Top News
The nasal vaccine—BBV154 -- had received DCGI approval in No...
Egypt's President Abdel Fattah al-Sisi is the chief guest at...
Announcement was made by Adviser to the UT Administrator Dha...
It reflects the 'myopic' mindset of those in power at the Ce...
In the last year, more than 70,000 people globally have been...