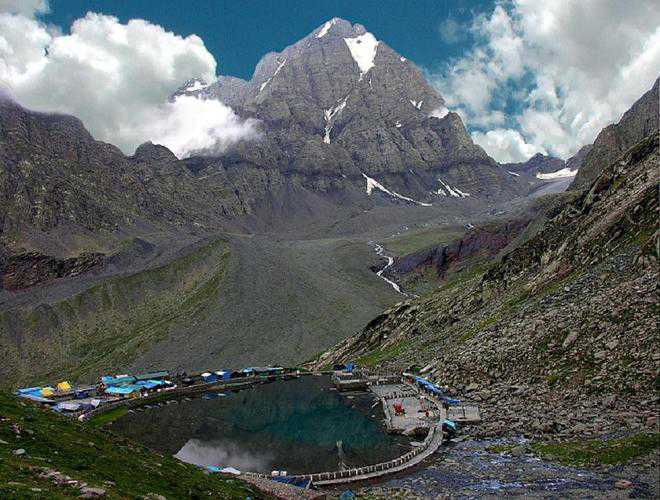 Balkrishan Prashar
Bharmour, August 24
To provide heli-taxis to pilgrims from the Chamba helipad to the Gaurikund helipad, the Manimahesh Trust had invited tenders, but not even a single aviation company has shown interest.
The deadline for tender submission was August 22, said Bharmour Additional District Magistrate PP Singh here yesterday.
The ADM said now the heli-taxi service by the UT Air and Trans Bharat Civil Aviation would be started from the Bharmour heliport to the Gaurikund like the previous years, adding that the Union ministry's permission was still awaited.
PP Singh said the Manimahesh Trust had finalised the heli-taxi service fare with the UT Air and Trans Bharat Civil Aviation operators.
A passenger would have to pay Rs 2,750 for one-side journey from Bharmour to the Gaurikund helipad, situated 2-3 km below the Manimahesh Lake, he added.
The Manimahesh pilgrimage would officially start from August 24 and culminate on September 6. Devotees of Lord Shiva would take a holy bath in the sacred waters of Manimahesh Lake, the ADM said. "For this, the entire area has been divided into 13 sectors and various teams under the sector and mela officials have been deployed to look into the problems of the pilgrims. So far, 60 community kitchens have been set up by various organisations," the ADM said. For sanitation, 60 employees of Bharmour unit of Sulabh International Shimla had been engaged. They would collect and segregate solid and liquid waste at Bharmour, Bharmani, Hadsar, Gui nullah, Dunali, Dhanchho, Sundrasi, Gauri Kund and Dal Lake. More than 25,000 pilgrims have visited the Manimahesh Lake so far. Flight reservations would be based on "first come, first served" basis. The operations would begin at sunrise and continue till sunset. One helicopter would ferry five passengers, apart from the pilot, the ADM said, adding that one-way flight took five to seven minutes.
Top Stories