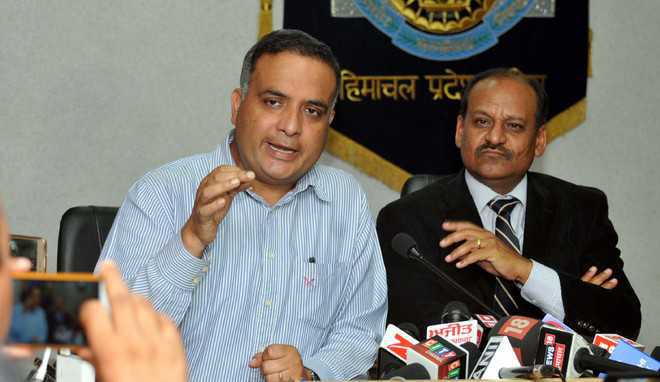 Shimla, August 29
Inspector General of Himachal Pradesh Police Zahur Zaidi and seven other policemen have been arrested in a case involving custodial death of a suspect in a July gangrape case, the Central Bureau of Investigation said on Tuesday.
Zaidi — a 1994-batch IPS officer who was then IGP (South) — was heading a Special Investigatiion Team inquiring into the gangrape and murder of a 16-year-old minor girl in Shimla's Kotkhai. Also arrested were Deputy Superintendent of Police of Theog Manoj Joshi; a former Staton House Officer of Kotkhai; an assistant sub-inspector; three head constables and one constable.
Rajender Singh (32), alias Raju — the prime suspect in the rape and murder — has been accused of having killed another suspect, Suraj Singh (29), by smashing his head on the floor of Kotkhai jail on July 18.
(Follow The Tribune on Facebook; and Twitter @thetribunechd)
The CBI, which later took over the case from state police, questioned several people before the policemen were arrested.
"The arrested accused were produced in the competent court in Shimla today and were remanded to police custody till September 4," a spokesman of the agency said.
The agency registered two separate FIRs — one for the July rape-and-murder case and another for the custodial death.
"The CBI has constituted a Special Investigation Team (SIT), headed by a Superintendent of Police and an Additional SP and a Deputy SP, and taken over the investigation of both the cases," a CBI spokesperson had said.
On July 4, Raju, Suraj Singh, and four other suspects offered the 16-year-old victim, a schoolgirl, a ride back home in Raju's pick-up vehicle. The suspects, believed to be drunk at the time of the crime, took her to an isolated place, raped and strangled her.
The victim's naked body was found in a forest nearby two days later.
The rape, as well as the suspected custodial killing, led to a public outcry in Shimla. Mob violence followed the suspect's alleged murder.
The CBI recently asked permission to have the suspects undergo polygraph test. — TNS/PTI
READ