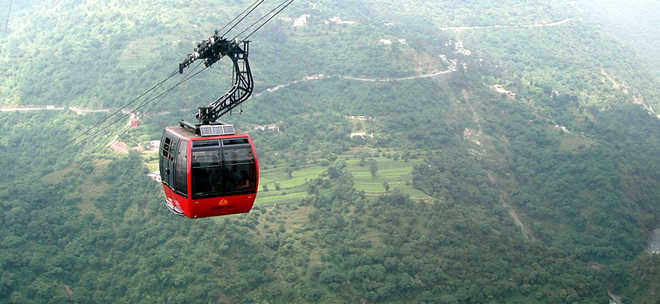 Kuldeep Chauhan
Tribune News Service
Shimla, January 27
After four years of wait, the 3,300-m long Tutti-Kandi-Jodha Niwas ropeway project is set to get its final forest and environmental clearance as the Ministry of Environment, Forests and Climate Change (MoEFCC) has asked the Shimla Municipal Corporation (SMC) to deposit Rs 3 crore as the net present value for cutting down 530 deodar trees and another 700 trees that will be affected by the project.
The ropeway aims at de-congesting the Cart Road in the city by ferrying tourists, including locals from Tuttikandi parking complex to Jodha Niwas near The Ridge. But the ropeway project will cost the city's depleting green cover dearly as about 530 green deodar trees will be cut to make way for the ropeway. The ropeway trolleys will run above over 700 other trees during the course of its journey from Tuttikandi to Jodha Niwas, said officials.
In a letter addressed to the SMC, the ministry has asked the civic body and the urban Forest Department to submit the final project report and deposit Rs 3 crore for getting the final clearance for the project.
"We have cleared the first hurdle as the ministry has accorded its in-principal approval for the project", said Municipal Commissioner Pankaj Rai. "We are finalising documents and will deposit Rs 3 crore as the cost of the trees and hope we will get the final forest and environmental clearance for the project soon to start the work next month", he added. The project will cost Rs 150 crore and will give Rs 10. 62 crore as revenue to the fund-starved SMC every year.
According to the SMC, the ropeway will have four stations- Tuttikandi parking complex, ISBT, Lift parking complex on the Cart Road and Jodhi Niwas near the Ridge, a terminal point. The SMC assigned the project to Usha Braco Limited (UBL) in 2015, which is to build it on a public-private partnership (PPP) mode. After the ministry gives its final approval, the company is expected to execute the project in a year's time, the SMC officials said. The ropeway will carry about 1,000 passengers on both ways in one hour and the company has targeted to ferry about 15 lakh passengers in a year.
The foundation stone for the project was laid in 2015 by then Chief Minister Virbhadra Singh and an MoU was signed with Usha Brecko company, which was to ready the project in three-year time. The agreement was signed on the BOT (built, operate and transfer) basis for a period of 40 years, while it could be extended for another 100 years on the request of the firm, the SMC sources said.
To cost Rs 150 crore
The project will cost Rs 150 crore and will give Rs 10. 62 crore as revenue to the SMC every year.
The ropeway will have four stations- Tuttikandi parking complex, ISBT, Lift parking complex on the Cart Road and Jodhi Niwas near the Ridge.
The SMC assigned the project to Usha Braco Limited
The ropeway will carry about 1,000 passengers on both ways in one hour
The company has targeted to ferry about 15 lakh passengers in a year
Top Stories