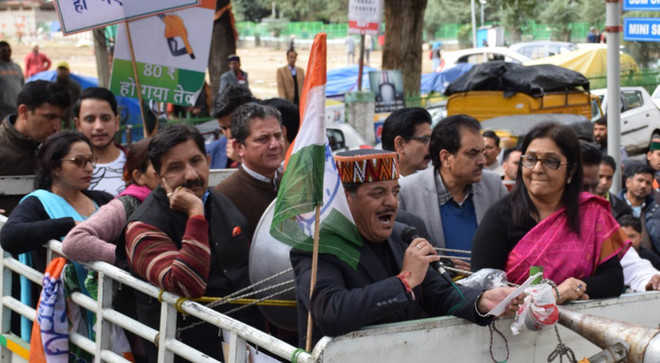 Our Correspondent
KULLU, NOVEMBER 8
A dharna was organised by the Kullu District Congress Committee on the issue of rising unemployment and inflation in the state here today.
In charge of the state Congress Rajni Patil, state Congress president Kuldeep Rathore, Leader of the Opposition Mukesh Agnihotri and other Congress leaders and workers gathered at Rambagh in the Akhara area.
They took out a huge procession accompanied by drums through Dhalpur.
Rajni Patil said as inflation was rising across the country, the problem of unemployment in the state was harming the youth. She said the BJP government had given many allurements to the youth before coming to power.
Chief Minister Jai Ram Thakur had talked about giving employment to the youth but the fact was that youths from outside were being given jobs.
As a result, Rajni said, the youth were angry with the government. She said now the people had understood that the BJP government had only given them false promises and not shown any interest in resolving their problems.
She said Prime Minister Narendra Modi visited Himachal many times but had failed to give any special package to the state. Describing the investors meet held in Dharamsala as disheartening, Patil said earlier it seemed that investment would be worth crores and big factories would be opened. "But only MOUs had been signed in the investors meet which is not an investment," she said.
Rathore said a committee had been formed by the party to review the reasons for the defeat in the byelections in Dharamsala and Pachhad. The committee was analysing the reasons and strict action would be taken against whoever was found guilty of harming the party candidate.
Agnihotri said the people had been disappointed by the investors meet at Dharamsala and the Chief Minister had proved weak in presenting his case before the Prime Minister.