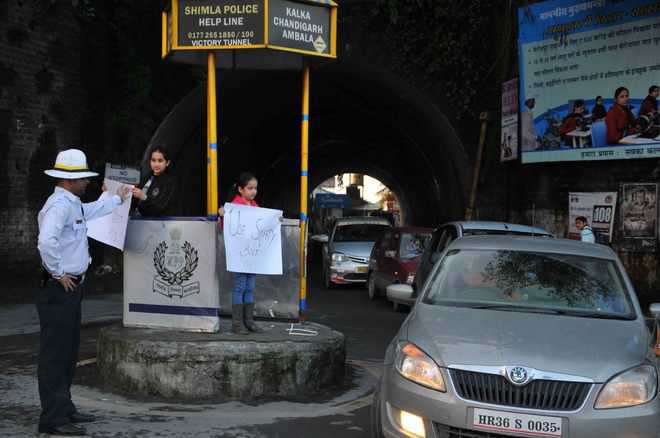 Bhanu P Lohumi
Tribune News Service
Shimla, March 25
Aiming at reducing accidents and strictly enforcing the traffic rules, the police will adopt the e-challan system to ensure fast and on-the-spot payment. The department is in the process of purchasing e-challan equipment, body cameras, alcholmeters and speed radars at Rs 4.70 crore to effectively check violations like drunk driving, overspeeding and other traffic laws.
The e-challan system will facilitate the creation of data-base of traffic violators which will be recorded in the central data bank and the quantum of penalty will be scaled up for the repeating the offence, said DGP SR Mardi, adding that the repeated violations would not only attract a fine but also cancellation of driving licence on the recommendations of the police, if the offence is repeated thrice.
As many as 600 e-challan machines, equipped with the facility of mobile phone with 4G connectivity and SIM card, printer and SMS for challan receipt and a gateway to pay fine and e-challan application, are being procured.
DIG, Southern range, Asif Jalal said, "The process of procurement is under way. The e-challan application has been developed by the NIC and customisation is going on, the receipt of fine will also be given through SMS to the violator and the department is seeking the access to the gateway from the NSDL for payment of fine through debit/credit card, besides agreement is being signed with Paytm.
As per statistics with the Police Department, 90 per cent of the people pay fine in cash and this facility will continue but with e-challan machines, cashless transactions will also be encouraged. The SMS facility will also have a link which enable the defaulter to see all details regarding the location of challan, type of violation and the amount of fine, he said.
Orders have been placed for the procurement of 110 alcohol-sensors and 30 speed radars. Body cameras will enable the police to record proceedings while enforcing the Motor Vehicle Act and these cameras will also come handy in recording the proceedings of the heinous crime.
The senior officers concerned will be able to keep a vigil and remain in touch with the happenings on the ground through these cameras. The system will ensure better safety for motorists as well as pedestrians, besides enabling the smooth flow of traffic, reducing the accidents and promoting a culture of compliance of traffic rules as 83 per cent accidents in the state are attributed to human error.
The fully automated systems, from violation-capturing till issuance of an e-challan, are aimed at strengthening the enforcement, bringing transparency, promoting adherence of traffic rules and instilling a sense of discipline among motorists, the police said.
Will ensure fast payment
The new system will ensure fast, on-the-spot payment
The department is in the process of purchasing e-challan equipment, body cameras, alcometers and speed radars to check violations
Repeated violations will not only attract a fine but also cancellation of driving licence
Agreement with Paytm on the cards