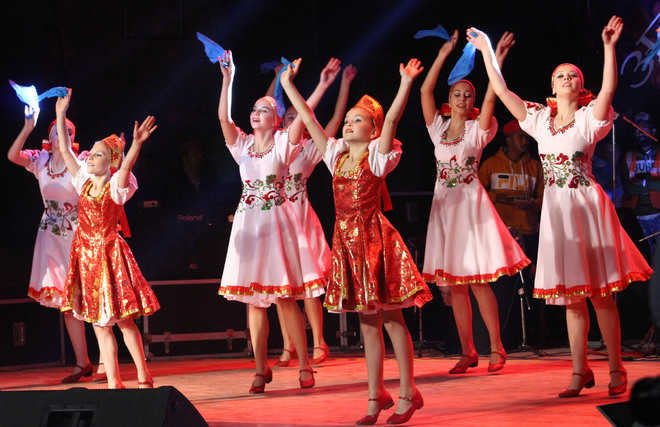 Abhinav Vashisht
KULLU, October 9
Performances by national and international folk dancers enthralled the audience during the first cultural night of the week-long International Kullu Dasehra festival that commenced here at Kala Kendra on Tuesday. The festival will witness performances by Bollywood singers and many other famous star performers.
The programme commenced with the local natti. Artistes presented traditional songs, which were a major attraction for both foreign and domestic tourists. A dance performance by Russian artistes entertained one and all. Troupes from various parts of the state gave an insight into their culture. Later, singer Swaroop Khan took to the stage and delighted the audience.
Earlier, chairman of the festival committee and Transport and Forest Minister Govind Singh Thakur honoured and welcomed the chief guest, GovernorBandaru Dattatreya by presenting him with a traditional Kullu cap, a shawl and a Dasehra souvenir. The event was jam-packed. Hundreds of foreigners and domestic tourists besides a large number of locals had gathered to watch the performances.
Meanwhile, Kullu DC Richa Verma was the chief guest at the opening ceremony of the three-day Dasehra Sports Festival-2019 at the Rath ground in Dhalpur. She lauded the efforts of Dasehra Sports Festival Committee for promoting sports and other activities.
Earlier, chairman of the committee and Kullu SP Gaurav Singh welcomed the chief guest and briefed about the activities to be carried out during the event.
He said seven famous teams of North India were participating in the volleyball competition and 40 in the men's kabaddi competition. Also, 18 women teams were participating in kabaddi for the first time. Women wrestling would also be held, he added.