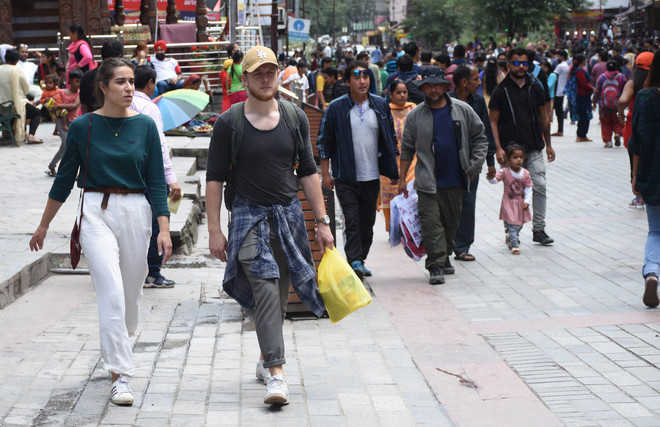 Lalit Mohan
Tribune News Service
Dharamsala, October 10
The falling tourism in the Dharamsala region is emerging as an election agenda in the byelection. The inflow of domestic and foreign tourists to the area has fallen by about 30 to 40 per cent.
As per data collected from the Tourism Department in 2017, 26,84,948 domestic and 1,87,200 foreign tourists visited here. The figure fell sharply in 2018 when 21,17,675 domestic tourists visited Dharamsala. It recorded a fall of about 30 per cent in arrival of domestic tourists. In 2018, the number fell to 1,07,451 which was a decline of more than 40 per cent.
This year till June, 12,17,514 domestic tourists and 65,679 foreign tourists reportedly made a visit.
Hoteliers are alleging that the government is not concerned about the tourism in the region despite the fact that it is the foundation of economy.
Sanjeev Gandhi alleged that the tourist footfall had been declining steadily due to the poor infrastructure. The main road from Dharamsala to McLeodganj had been in poor shape for two years. It had been sliding at places and reduced to single lane in some spots.
Due to bad condition of the road, the area faced long traffic jams during the peak season, bringing bad name to the area.
Ashwani Bamba, a hotelier from Bhagsunag, said they had offered to the local administration that the hotel association was ready to build parking in their area if they provided them land. We have also identified land, however, nothing had happened, he said.
The hoteliers say that they are putting up the agenda of falling tourism before the contesting candidates. "We will vote for the person who provides a viable solution to the sagging tourism industry," they said.
Top News
Team of Congress central observers, led by Chhattisgarh CM B...
'Observers sent to the hill state were seeking the individua...
BJP MP Kirodi Lal Meena moved for leave to introduce the Bil...
A bench of Justices MR Shah and CT Ravikumar said that only ...
Average of assets per winning candidates in Himachal Pradesh...