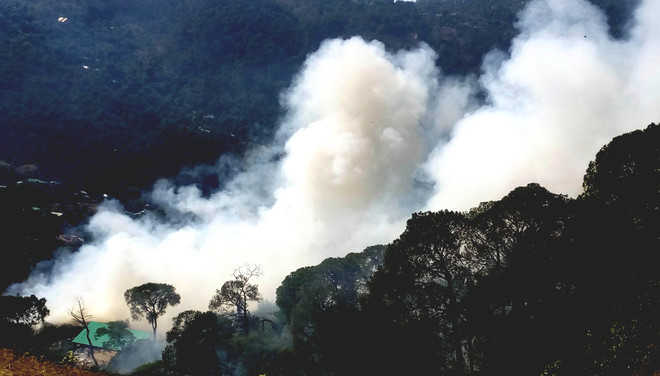 Lalit Mohan
Tribune News Service
Dharamsala, June 14
Fire has been raging in solid waste dumping site in Dharamsala for the past some days. The residents of Sudher village located near the dumping site and Kotwali market area have been complaining of toxic fumes pervading the area.
Sources here said that the toxic fumes are emanating due to burning of plastic and other toxic waste dumped at the waste management site.
There was practically no management at the solid waste management site in Dharamsala. For years solid waste dumping has been going on in an unscientific manner. The problem acquired a bigger proposition and it was turning out to be health hazard for habitations in Dharamsala city.
Commissioner of Dharamsala municipal corporation, Sandeep Kadam, when contacted, admitted said that they have been trying to control the fire. Workers have been hired to segregate and remove inflammable waste from the dumping site. However, since waste was being dumped in the area for years it may take about a week to bring the situation under control, he said.
Sources told The Tribune that the solid waste dumping site of Dharamsala was located on forest land and was illegal. During the stint of the previous Congress government a proposal was mooted to create a solid waste dumping site near Tanda for a cluster of towns. However, the Commissioner told The Tribune that the proposal has been rejected at the government level.
In the recent past, the residents of Sudher village had threatened to launch an agitation in case solid waste dumping in their village was not stopped. Dharamsala Municipal Corporation has been dumping solid waste in forest land just above Sudher village for more than two decades.
The dumping site is creating problems for the residents of city in lower Kotwali area. Rahul, a Mall worker, said after rains stench from solid waste spreads in entire area, affecting their business.
Congress leader Kewal Singh Pathania said solid waste dumping site of Dharamsala was located on forestland, which had not been transferred to the corporation.